What is the Dead-Beat Seconds Complication?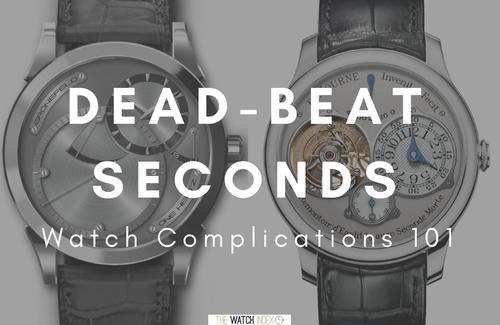 The Dead-Beat Seconds Complication
One of the easiest ways to determine if a watch is powered by a quartz battery or a mechanical movement is to look at the seconds hand. If the seconds hand sweeps around the dial smoothly, then the watch is most likely a mechanical watch. If the seconds hand jumps from one index to another, and the hand moves only once per second, then you can assume the watch is a quartz watch.

Until now. 
If you look at a watch with a dead-beat seconds complication, you would immediately assume that it was powered by a quartz movement. Watches with a dead-beat seconds complication tick as if it were a quartz watch, the seconds hand moving once every second. However, these watches are in fact powered by a highly complicated mechanical movement.

The idea behind dead-beat seconds may sound simple, but the mechanics are anything but. Depending on the movement, a typical mechanical watch with a spring-powered seconds hand beats 5 to 10 times per second, whereas a dead-beat seconds watch would beat only once per second. There is no one set way to achieve this rare complication. Some brands, such as Gronefeld, achieve the dead-beat seconds by using two gear trains (one for the seconds and the other for the hour and minute hands).  Another option is to use a single mainspring and a more complex gear train. This gear train would need to convert the balance's oscillations into single one-second beats. 

The Gronefeld brothers are known for designing watches with this rare complication, and they've even created a video to show the inner workings of a watch with a dead-beat seconds complication. 
The first dead-beat escapement was created in 1675 by Richard Towneley at the Greenwich Observatory. Towneley created this complication for regulator clocks to make it easier and more accurate to set other clocks' time. Forty years later, British watchmaker George Grahm revitalized this complication, and it became standard for pendulum clocks. By the 1950s and 1960s, this complication was miniaturized by watchmakers.
If there were an award for the most ironic watch complication, then the dead-beat seconds complication would win hands down. It is interesting that there is a high-end complication that imitates quartz watches, especially since there are watch collectors that scoff at quartz watches and believe them to be of lesser quality than mechanical watches.

There are no added benefits to having a dead-beat seconds, so it's a very rare complication. Similar to a tourbillon, the dead-beat seconds will often be added to a watch for bragging rights. However, not every watch collector will recognize this rare complication and many may assume you're wearing a high-class quartz watch. 

If you're a watch collector who owns a dead-beat seconds watch, you may notice that some watch snobs will scoff at your watch. Don't worry though; you'll have the last laugh. The watch snobs simply showed that they don't know everything about the watch world. You and other serious watch collectors know exactly how complicated your watch actually is. That's what matters in the long run.

(The watches shown in the image above are the Gronefeld One Hertz 1912 Dead-Beat Seconds Watch and the FP JourneTourbillon Souverain.)
RECENTLY VIEWED
Watch reviews, industry info, exclusive partner offers, and more straight to your inbox!