What is a Dive Watch?
Get in the know! Never have to wonder, "What is a dive watch?" again.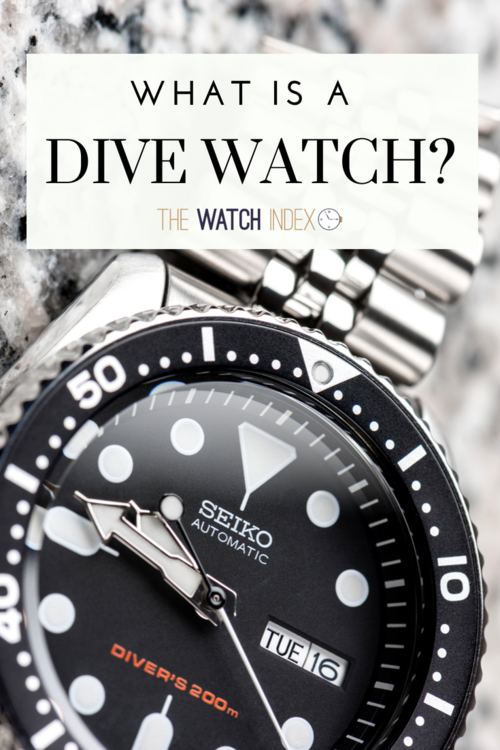 What Is a Dive Watch
What is a dive watch? Do only divers use dive watches? Are they practical for usage above sea-level? These are all confusing questions, but the answers are simpler than you may think.

A dive watch is a watch that the International Organization for Standardization (ISO) has set apart for its adherence to certain standards, many of them relating to its ability to function underwater. However, the majority of people who wear dive watches (also known as diving watches or divers' watches) never visit the seafloor. They're perfectly practical for those of us who are not aquatically inclined, especially because they are waterproof and specifically designed to be visible in low lighting. Who couldn't make use out of that?
What makes a dive watch?
The ISO-approved requirements that a mechanical dive watch must possess are as follows:
A rotating bezel that is built to track the time elapsed underwater since the beginning of a dive.
 
Luminescent additions to the dial and hands for maximum readability in low light (such as underwater.)
 
A crown that is screwed down to keep water from getting into the watch.
 
A water-resistant case that prevents corrosion and rusting.
 
A shock-resistant and magnetic-resistant movement.
 
Functional underwater at a minimum of 100 meters (330 feet.)
Popular Dive Watch Brands
Whether your budget is limitless or restricted to a couple hundred dollars, there are watch brands that are well-known for making watch brands. You can't answer the question "What is a dive watch?" without recognizing these giants in the field:
Rolex
Victorinox
IWC
Tudor
Aegir Instruments
Aquadive
Germano & Walter
H2O/Helberg
Pita
Suissemecanica
UTS München
RECENTLY VIEWED
Watch reviews, industry info, exclusive partner offers, and more straight to your inbox!