What is a Pilot Watch?
This style isn't just for pilots anymore!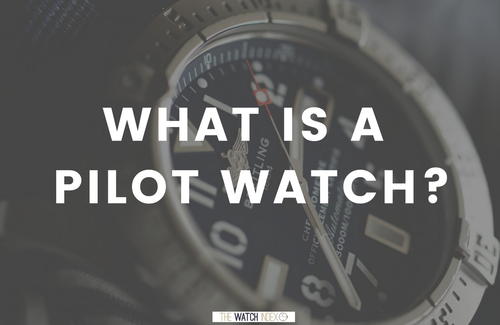 What is a Pilot Watch
Are pilot watches only worn by pilots? Is any watch worn by a pilot a pilot watch? The pilot watch is an often confusing moniker for simple and readable watches. They derived their name from WWI pilots who needed to be able to read the time at a moment's notice, but the term has grown to include a large variety of watches. Common features of pilot watches are simple faces, large numerals, and a marker at 12 o'clock to make orientation simpler. Pilot watches have also adapted to include certain chronographs that would be advantageous for pilots today.
What Makes a Pilot Watch?
Pilot watches are known for simplicity. These clean timepieces can be read easily and quickly so you don't waste time analyzing your wristwatch. Key features of the pilot watch include:
Prominent hands that contrast the dial

An oversized winding crown
Popular Pilot Watch Brands
There are many brands that create their own signature pilot watches. These timepieces can range from a few hundred to tens of thousands of dollars. Here are some of the most popular pilot watch brands:
RECENTLY VIEWED
Watch reviews, industry info, exclusive partner offers, and more straight to your inbox!