All You Need to Know About Wooden Watches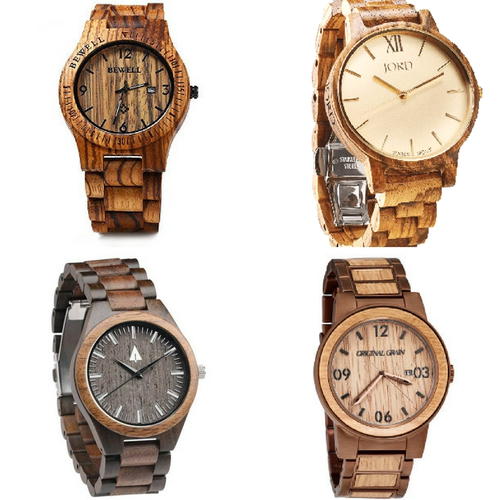 All You Need to Know About Wooden Watches
A few years ago, wooden watches were all the rage and it seemed that everyone wanted a wooden watch. But has this trend stuck around? Are wooden watches still being created, and if so, are people still buying them?

Although they aren't as trendy as they were in 2015, wooden watches are most definitely still available. To help you with your search, we've identified the top eight watch brands that sell wooden watches, and these brands produce wooden watches that not only look great but also have accurate movements.  

Still need to decide if a wooden watch is something you want to buy? Check out our pro/con list where we've listed out the benefits of wooden watches as well as things to keep in mind. We've also listed the top eight most common types of wood used for watches. Make sure you shop around and choose the wood that works best for your lifestyle. 
Benefits of Wooden Watches
1. Unique – Stainless steel watches are everywhere you look, but wooden watches will catch your friends' attention. Plus, no two wooden watches are exactly the same. Every watch will have a different pattern because no two pieces of wood have the same grain pattern. 

2. Hypoallergenic – Great for people with a skin condition or allergy that prevents them from wearing the standard metal watches.

3. Great for Gifting – Wooden watches make great birthday, Christmas, or graduation gifts. For couples that follow the traditional wedding anniversary gift guide, the fifth anniversary is wood. A wooden watch is much more exciting than a cutting board or plaque!

4. Lightweight – A wooden watch is much lighter than your typical metal watch.

 
Before You Buy Your Wooden Watch
1. Choose your wood carefully – Make sure the watch is made from solid, sustainable wood. Beware of stainless steel watches with a wooden veneer glued on top. 

2. Check out the movement – Make sure the watch is powered by a quality movement. Without an accurate movement (whether it be mechanical or quartz), your watch will quickly become a wooden bracelet instead of a device to tell time. 

3. Read company reviews – There are quite a few companies that are looking to make a quick buck off of a trendy product. Make sure you're purchasing your watch from a reputable company.

4. Make sure it's a quality watch – If you can, check out the watch in person, and make sure the strap is adjustable. If you're not able to see the watch in person, make sure you're aware of the company's return policy. 

5. Buy a watch with a warranty – If something happens to your watch, you'll need to know where to send it in for repairs.

 
Things to Know About Wooden Watches
1. Wooden watches are generally splash proof but not waterproof. If your watch gets too wet, it will expand, warp, crack, or bend.

2. You'll have to clean your wooden watch more frequently than a metal watch. Cleaning your watch will prevent the wood from darkening, remove dirt build-up, and provide the wood with the moisture it needs to prevent cracking. To clean your watch, all you need to do is rub the watch and any crevices with oil, such as tung oil or lemon oil.

3. Wooden watches do not do well with rapid temperature change. Drastic shifts in temperature can cause the moisture in the wood to freeze and then expand. This expansion could lead to the wood cracking.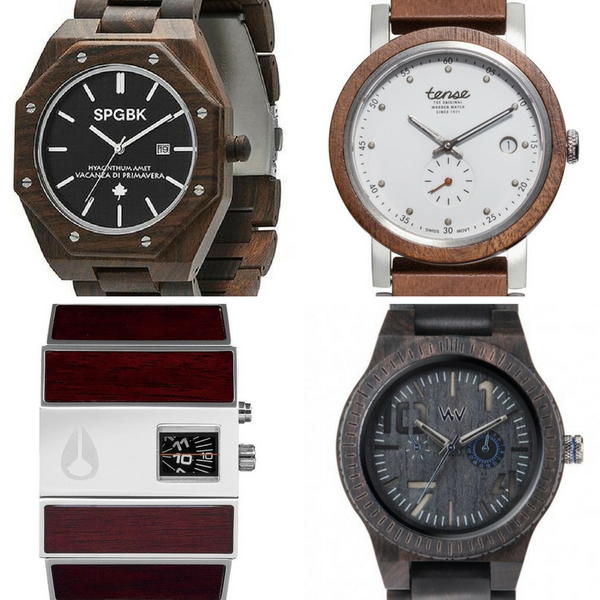 The Most Common Wood Used For Watches
Cork
- Comfortable
- Lightweight
- Inexpensive
- Not as durable
- Short lifespan

Bamboo
- Strong and resilient
- Uniform texture with visible pores
- Pale yellow or almost white in color

Koa
- Considered to be one of the most beautiful Hawaiian woods
- Fairly resilient

Maple
- Affordable
- Durable
- Creamy white hardwood that can be stained to look like cherry or mahogany woods
- Even texture with typically straight grain

Ebony
- Uniform texture with typically straight grain
- Black with dark brown and grey streaks

Sandalwood
- Wavy grain but can be straight
- Red, green, or black hues (depending on type)

Teak
- Straight grain but occasionally wavy
- Coarse and uneven texture
- Golden or medium brown

Zebrawood
- Coarse texture with open pores
- Grain is usually wavy
- Light brown or cream color with darker streaks


Top 8 Wooden Watch Brands
RECENTLY VIEWED
Watch reviews, industry info, exclusive partner offers, and more straight to your inbox!