Citizen Promaster 1000M Professional Diver Hands-on Review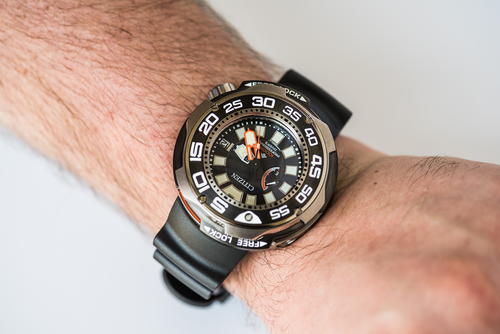 At Baselworld 2017, Citizen introduced the world's first solar-powered 1,000 meter dive watch, and this week The Watch Index had the opportunity to review the watch hands-on. As you can see from the pictures, the Citizen Promaster 1000M Professional Diver means business. This tool watch is a utilitarian watch that's tailor-made to satisfy its purpose as a dive watch.

The Citizen Promaster 1000M Professional Diver may be a little heavy and cumbersome, but it's stylish in a way that something industrial and mechanical could be stylish. The watch, with its adventurer motif, makes you feel as if the world is yours to discover. 
Case
When you first see this Citizen watch, the first thing you notice is the case. This 52.5mm x 21.4mm case is made from Citizen's "Super Titanium" ally, which is scratch-resistant, low weight, and durable. The bezel is coated in Diamond-Like Carbon (DLC), and the sapphire crystal has an anti-reflective coating.   
 
As for the bezel, Citizen has designed it with a "saw blade" design to make it easy to turn even when you're wearing thick diving gloves. This uni-directional bezel features an elapsed-time display and a locking mechanism. The locking mechanism ensures that the bezel won't be bumped accidentally and affect the accuracy of the elapsed-time display. When the locking mechanism is unlocked, a strip of orange can be seen. This visual indication ensures that you know exactly when the bezel is locked in place. There is a similar orange strip that can be seen when the screw-down crown is unscrewed.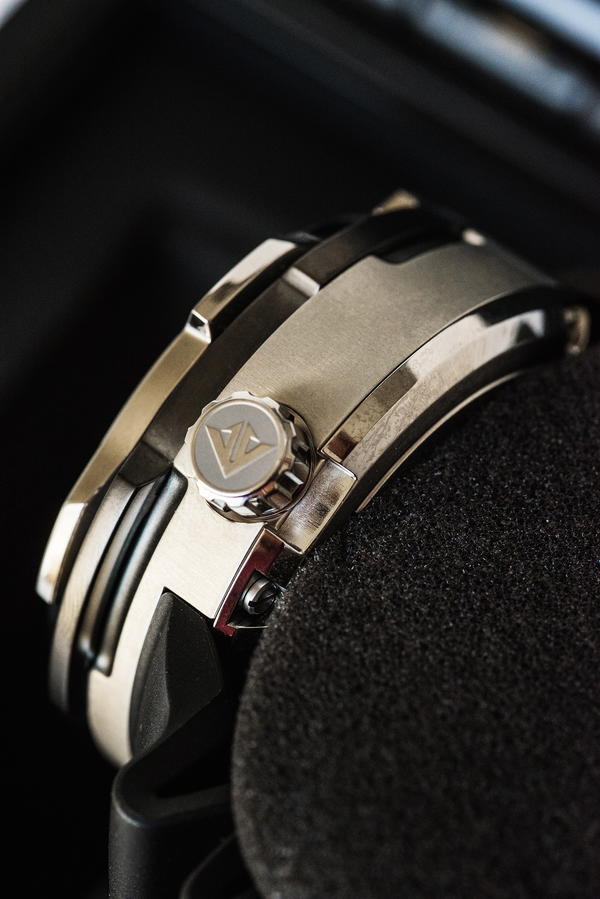 Features and Complications
This dive watch features a date display at 3 o'clock and a power reserve indicator at 9 o'clock. The power reserve indicator ensures divers have a worry-free dive because they'll know exactly how long the watch will run without light. The Citizen Promaster 1000M Professional Diver also features a helium release valve at 10 o'clock on the side of the case. This helium release valve releases the helium gas that enters the watch during deep dives, and this prevents damage or rupture of the movement.

As you've probably noticed, the hour markers are rather large. The added lume and increased size makes it incredibly easy to read the time in less than ideal conditions. It's also easy to differentiate between the hour hand and the minute hand because the minute hand is outlined in vibrant orange.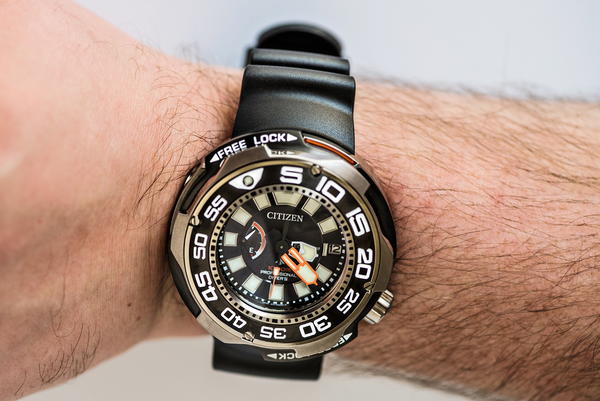 ISO Compliant
If you're looking for a dive watch that has been tried and tested, then you'll be happy to know that the the Citizen Promaster 1000M Professional Diver is ISO compliant. Unsure what we mean by "ISO compliant?" Don't worry, you're not alone. Many watch collectors know that an ISO watch is a certified dive watch, but few collectors know exactly what is required for an ISO certification.

ISO 6425 Certification Requirements      
Watch must be equipped with a device that allows the user to pre-select a period of time of up to 60 minutes. This may be a rotating bezel or a digital display.
Timing device must be protected from inadvertent manipulation.
Bezel must have a scale showing 60 minutes with markings showing every 5 minutes.
Markings on dial must be clearly visible and must coordinate with the markings on the pre-selecting device.
Time must be clearly visible, and the minute hand must be easily distinguishable from the hour hand.
Time set on the pre-selecting device must be clear, as an indication that the time is running (this requirement is usually satisfied with luminous hands and hour markers).
Battery-powered watches must have a visible low-battery indicator.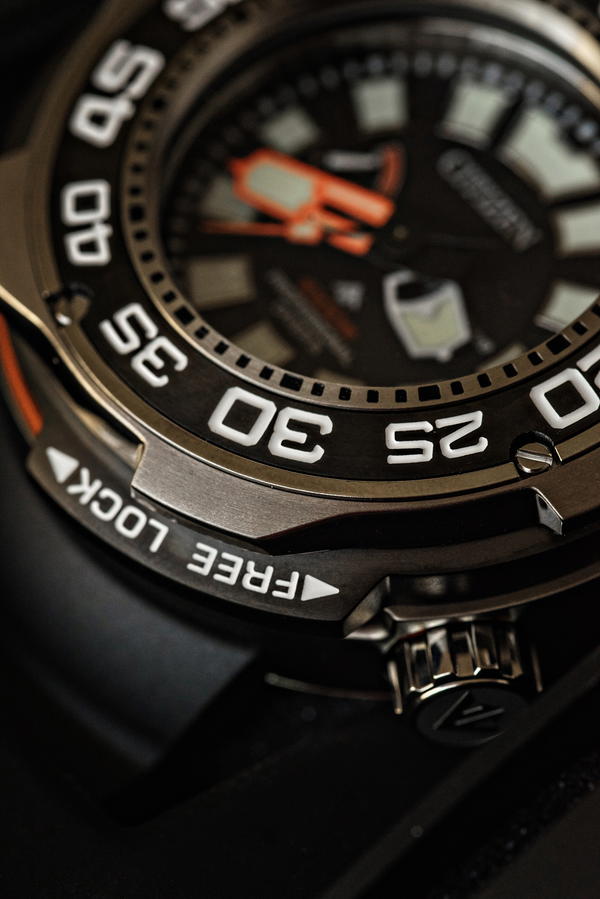 ISO-certified watches are also put to the test to make sure they're resistant to salt water and reliable under water. ISO 6425 certification also tests for anti-magnetism, shock resistance,  external force resistance, and thermal shock resistance. Finally, there is a test to ensure that the watch continues to perform even after spending 15 days in a pressurized chamber. This chamber contains a mixture of helium and oxygen (or even 100 percent helium gas) and then reverts back to atmospheric pressure within three minutes after high-speed decompression.

If a watch passes these strict requirements, it can be marked with the word "Divers" followed by the depth rating. In this case, the Citizen Promaster 1000M Professional Diver says "Professional Diver's 1000m" on the side of its case.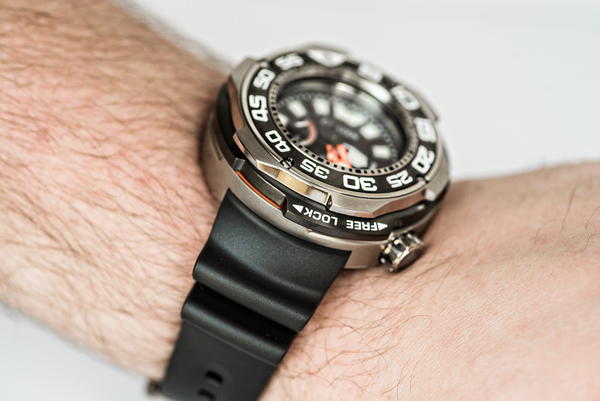 Movement
As for the movement, this dive watch is powered by Citizen's caliber J210, a solar-powered movement that is accurate +/- 15 seconds per month. This Eco-Drive One movement is able to convert any light (whether natural or artificial) into energy, and this energy is stored in a power cell. Because the watch is able to store the energy, the watch will continue to run (for at least six months) even if stored in the dark. The best thing about a solar-powered watch is that you'll never need to worry about changing the battery. 
 
Pros and Cons
This watch is a tool watch that is ideal for divers. It has all of the features that you could ever want in a dive watch, and it's ISO compliant. Although this watch is the largest watch I've ever seen, the lugless case makes it more wearable and less bulky.

Perhaps the biggest downside of the watch is the rubber strap. This strap is meant to withstand a lot of force underwater, but the thickness of the strap makes it difficult to put on and take off the watch.

All-in-all, this Citizen dive watch is a statement watch that will bring attention to your wrist and invite conversation.

Price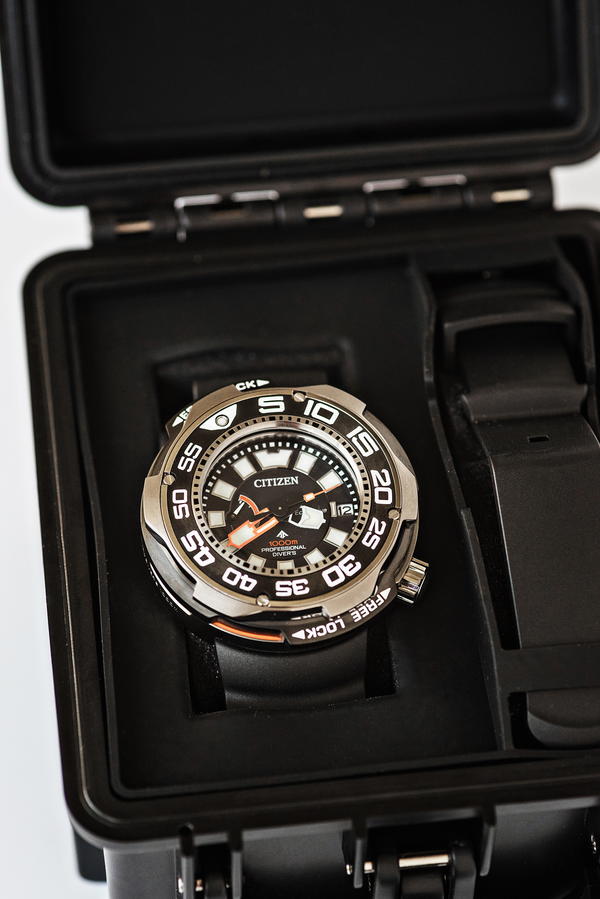 RECENTLY VIEWED
Watch reviews, industry info, exclusive partner offers, and more straight to your inbox!