How to Choose a Dive Watch
Dive into this guide for picking the best underwater watches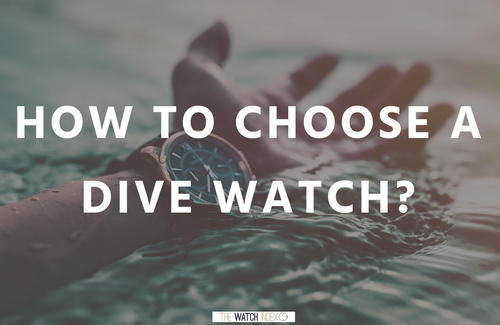 Whether you make many underwater excursions or simply prefer the aesthetic and functionality, choosing the right dive watch is important. There critical features of dive watches to consider before making a purchase from legibility to water resistance. Depending on how you plan to use the timepiece, you may find that a simple, inexpensive model may suit your needs, but if you plan to take your watch deep under water, the reliability of the piece can be the difference between life and running out of breath. 

Learn about the important aspects of dive watches that you should consider before making a purchase. If you're completely new to the world of dive watches, first discover what makes a dive watch.
1. Water Resistance
This one is very intuitive. If you plan to take your dive watch on a scuba expedition, you need to trust that it can survive the depths. The International Organization for Standardization requires dive watches to function underwater to a minimum of 100 meters. Many dive watches will go beyond this minimum, so it's best to determine how deep you plan to dive and find your threshold before looking at other aspects.
2. Legibility
No matter how deep you dive, it is essential that you can read your watch face. Luminescent features and large numerals ensure that you can read your timepiece no matter how dark your surroundings become.
3. A Unidirectional Rotating Bezel
This feature is a must if you ever plan to use your watch to monitor time elapsed underwater. You can set the dial to when you dive so you can see how much air you have remaining. Having the bezel be unidirectional ensures that if the watch were to turn, you would resurface with additional air instead of miscalculating your supply and running dangerously low on oxygen.
4. A Screw Down Crown
To help with the water resistance, having features that screw down into the watch will help keep water out of the mechanical parts. Having a complete seal will protect from any water penetration that can lead to watch failure while diving.
5. Straps
Most divers will wear their watch over a wetsuit for easy accessibility. If you plan to wear your watch daily in addition to dives, having an adjustable strap or an extendable clasp will make your watch have more than one use. 
6. Corrosion Resistance
If you are planning to dive in the ocean, salt corrosion may not be something for which you've planned. Easy-to-clean materials or corrosion-resistant cases can limit the wear and tear on your watch as you use it.
RECENTLY VIEWED
Watch reviews, industry info, exclusive partner offers, and more straight to your inbox!