14 Million Dollar Watches: The Most Complicated Watches Available
14 Million Dollar Watches
We can all agree: collecting mechanical watches is an expensive hobby. However, there are some price tags that even the most dedicated watch aficionados can't swallow.

We've compiled 14 of the most expensive watches ever created, and they're all priced over a million dollars. Plus, we've included only the highly-complicated, bling-free watches. These watches, in our opinion, are more impressive than the bejeweled watches because they rely on their movements instead of their decoration.

Check out our list below to see how high the price tags will go. Then let us know which million dollar watch is your favorite.
14. H. Moser & Cie. Venturer Tourbillon Dual Time Sapphire Skeleton

Price: 1 million CHF

The H. Moser & Cie. Venturer Tourbillon Dual Time Sapphire Skeleton was a two-year project developed by a team of 22 people. The watch is powered by an in-house manufactured automatic one-minute tourbillon movement, the HMC 803 Caliber. This nickel silver movement includes a red gold bidirectional rotor that is visible through the transparent sapphire case, both front and back. This movement also boasts a 3-day power reserve and includes a second time zone, entirely decorated and skeletonized.

H. Moser & Cie. used sapphire crystal to create the 41.5mm three-piece case, yet the watch features the same proportions you'd find on a gold or platinum case. Working with sapphire is an impressive feat because the material is incredibly difficult to cut. One watch case requires 588 hours to machine and 92 hours to finish. However, the end result is worth it because sapphire is scratch-resistant, sturdy, and hard.

As for the rubber strap, H. Moser & Cie. created it with a 3D printing process — a world first in watchmaking.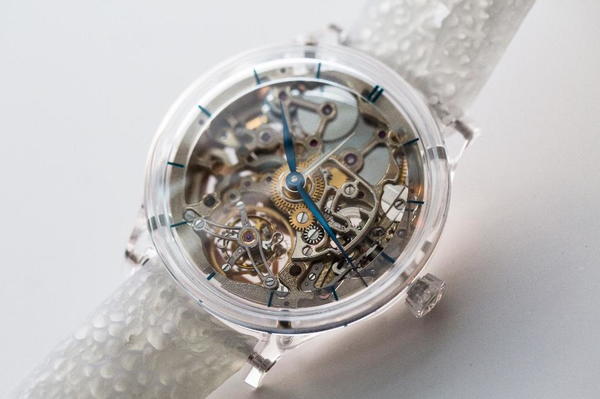 13. Roger Dubuis Excalibur Quatuor

Price: 1 million CHF

Introduced in 2013, the Roger Dubuis Excalibur Quatuor is the first-ever watch with a case made entirely from silicon with a high-frequency 16-hz movement. Silicon is incredibly lightweight while still maintaining its hardness; for example, the material weighs half as much as titanium yet it's four times harder. It also features a diamond-like atomic structure which ensures that the material is sturdy.

This watch is powered by the Caliber RD101, which includes four in-house sprung balances. The four sprung balances work together to compensate for the effects of gravity, and they accomplish this feat much faster than a tourbillon would. Roger Dubuis is one of the only brands that can manufacture sprung balances in house. Yet, this movement doesn't just include the balances, it also includes a double flying tourbillon. This movement results in an incredibly accurate watch.

This Geneva seal-certified watch is limited to three timepieces. 
12. Vacheron Constantin Les Cabinotiers Symphonia Grand Sonnerie 1860

Estimated Price: 1 million USD

The Vacheron Constantin Les Cabinotiers Symphonia Grand Sonnerie 1860 was unveiled at SIHH 2017. This complicated watch required ten years for research, development, and design, and a single watchmaker dedicated over 500 hours building the timepiece.

Although Vacheron Constantin has produced quite a few chiming watches, this Les Cabinotiers Symphonia Grand Sonnerie 1860 is their first sonnerie in wristwatch form. The grand sonnerie automatically chimes the hour and quarter hours, the petite sonnerie chimes the hours, and the minute repeater chimes on demand. Silence mode is also an option.

This watch may be complicated, but the dial is relatively clean and clutter free. The dial consists of hours, minutes, seconds, and two power reserves. The watch power reserve lasts for 72 hours and the sonnerie power reserve lasts for 20 hours.  The watch movement includes two mainspring barrels, one for the watch and the other for the striking system.

This watch is presented in a 45mm white gold case.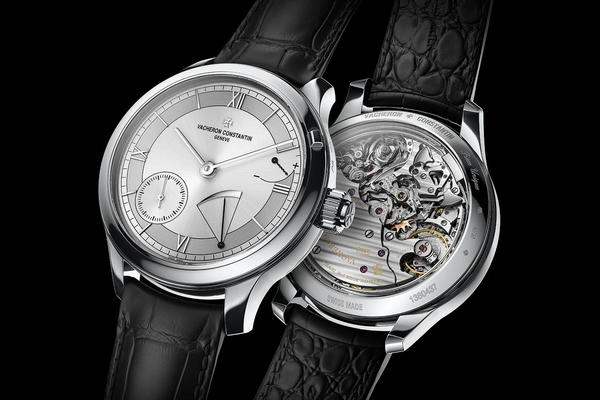 11. Vacheron Constantin Les Cabinotiers Celestia Astronomical

Estimated Price: 1 million USD

The Vacheron Constantin Les Cabinotiers Celestia Astronomical was presented at SIHH 2017. To make this watch a reality, a single watchmaker spent five years developing the 514-part 3600 movement from scratch. This movement offers 23 different complications, and the standout complications include the calendar and moonphase indications, sunrise and sunset times, night and day lengths, a tide level indicator, and a celestial chart display.

Here is a complete list of the watch's complications.

 -- Multiple timing systems (civil, solar, and sidereal modes), each with their own gear train
 -- Perpetual calendar with day, date, month, leap year indicated
 -- Day/night indication
 -- Moonphase and moon-age indicator
 -- Equation of time and running equation of time
 -- Sunrise and sunset times
 -- Length of day and night
 -- Seasons, solstices, and equinoxes
 -- Zodiac signs
 -- Tide level indicator
 -- Sun-earth-moon conjunction, opposition, and quadrature
 -- Celestial chart with northern hemisphere indication of the milky way
 -- Tourbillon
 -- Three-week power reserve

To display the wide variety of complications, this is a two-sided wristwatch with 15 indications on the front dial and 8 indications on the back. The watch is presented in a 45mm white gold case.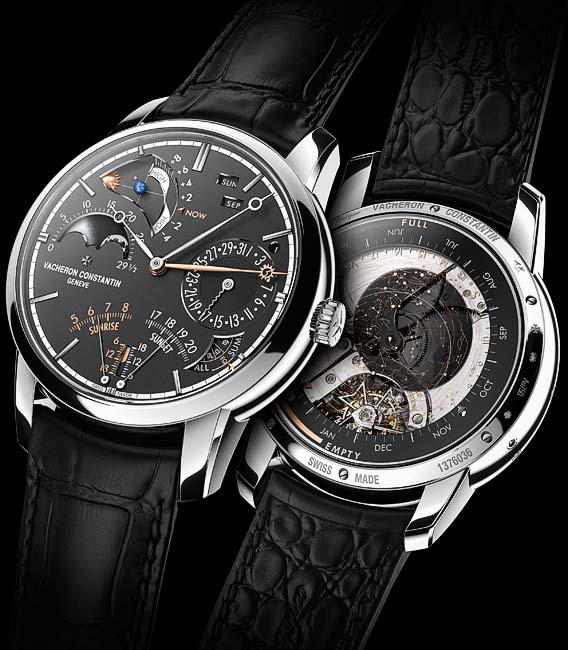 10. H. Moser & Cie. Swiss Mad Watch

Price: 1,081,291 CHF

Perhaps the most unique watch on this list, the Swiss Mad Watch was created by H. Moser & Cie. to protest the 2017 new Swiss Made requirements. These requirements have become less strict, and a new law will now allow brands to include research and development costs as part of the 60 percent of a watch's value that must come from Switzerland for the watch to be considered Swiss Made. Therefore, if the watch's development costs are high enough, the watch could be made entirely outside the country and still qualify for the Swiss Made distinction.

The relaxed Swiss Made requirements have led H. Moser & Cie. to remove "Swiss Made" from its timepieces created in 2017 or later. As another form of protest, the watch company has created the Swiss Mad Watch, the most Swiss watch ever created.

The company created the watch as a tribute to Switzerland's famous exports as well as the country's colors. The case of this Swiss Mad Watch is made from Vacherin Mont d'Or, a type of Swiss cheese; the dial features Switzerland's signature red and white colors; and the strap is made from cowhide.

Although the watch may be a joke, the movement is not. The movement that powers this Swiss Mad Watch is the high-tech HMC 327 movement. This in-house hand-wound movement includes 27 jewels, 18,000 vibrations per hour, and a 72-hour power reserve. The movement is housed in the 45mm resin-compound Vacherin Mont d'Or cheese case. Only one timepiece was created.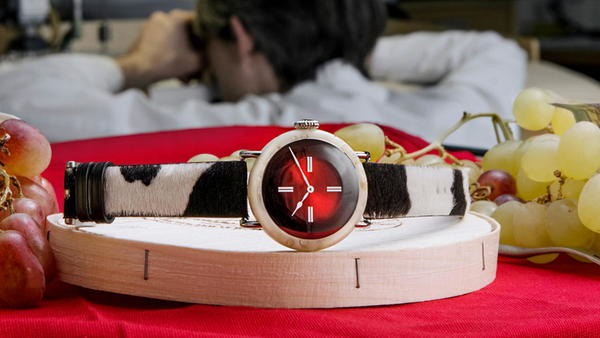 9. Louis Moinet Meteoris

Price: 4.6 million USD

The Louis Moinet Meteoris wasn't just one watch, but rather a set of four watches. These four watches, at a hefty price of $4.6 million combined, are rather unique because they used materials from the moon, an asteroid, and a meteorite.

Louis Moinet would only sell the watches as a set, but whoever bought the watches also received a complimentary planetarium. The planetarium depicts the solar system while also providing a home to showcase the four watches.

These four gold watches feature a hand-engraved dial, as well as a tourbillon complication. 
8. Greubel Forsey Grande Sonnerie

Estimated Price: 1.4 million USD

Greubel Forsey, known for their ultra-complicated watches and chronometric precision, presented their first-ever grande sonnerie at SIHH 2017. The Greubel Forsey Grande Sonnerie required eleven years to design and manufacture, and there will only be five to eight timepieces built annually.

The movement powering the watch is composed of 855 components, and it's equipped with a specially made resonance cage for perfect chiming acoustics. There is also eleven security systems in place, so that the wearer does not damage the mechanism while it's chiming.

The sonnerie complication includes a grande sonnerie for hours and quarter hours; a petite sonnerie for hours; and a minute repeater for hours, quarter hours, and minutes. The minute repeater will chime on demand. There is also an option for silence, which will quiet the chimes.

This watch also includes an inclined tourbillon escapement, which will compensate for errors in timekeeping due to the effects of gravity. All of this is housed in a 43.5mm titanium case.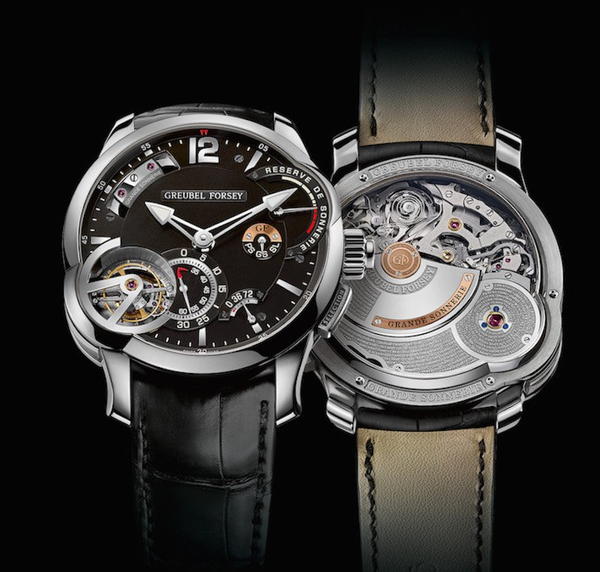 7. Greubel Forsey Art Piece 1

Price: 1.4 million CHF

Introduced at SIHH 2013, the Greubel Forsey Art Piece 1 is a rather unique timepiece because it incorporates a minuscule, yet highly detailed sculpture by English artist, William Wigan. William Wigan is known for making the world's smallest sculptures; these sculptures are so tiny that they can fit in the eye of a needle.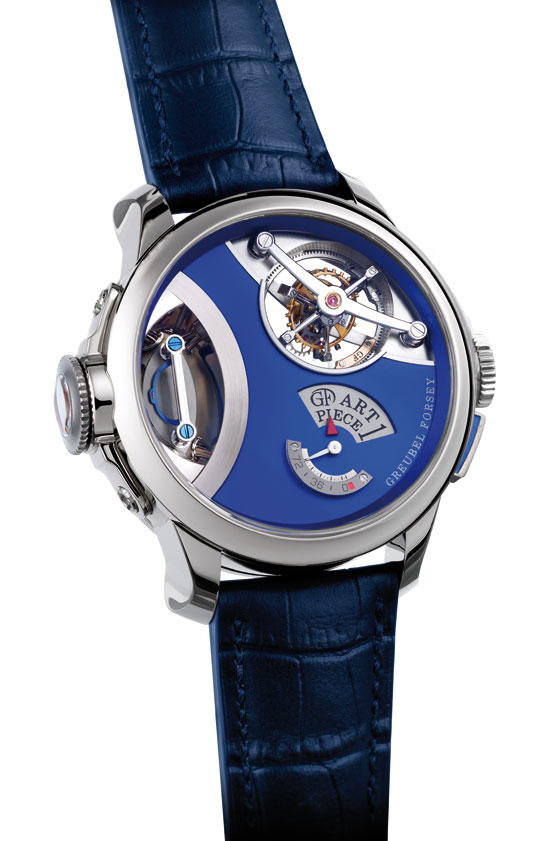 For the Greubel Forsey Art Piece 1,  William Wigan crafted a three-masted sailing ship called Golden Sails with hulls and sails made from extremely thinned gold. This ship resides on the left side of the watch; however, it cannot be properly appreciated with the naked eye because of its miniscule size. If you were to glance at the watch, you would assume the ship were just a piece of gold dust. To showcase the one-of-a-kind sculpture, Greubel Forsey created a crown-like magnifying glass that magnifies the ship 23 times. This magnifying glass ensures that the detail and intricacies of the ship are appreciated.

This million dollar watch doesn't just include the miniscule ship, it also features a double tourbillon, the Double Tourbillon 30 degrees, which features a one-minute cage inclined at 30 degrees rotating within a second exterior four-minute cage.

6. Vacheron Constantin Tour de I'lle

Price: 1.5 million USD

The Vacheron Constantin Tour de I'lle was revealed in 2005 to celebrate the brand's 250th anniversary. When it was first introduced, many considered the Vacheron Constantin Tour de I'lle to be the most complicated watch ever created because the movement included 834 parts. Today, this number has been surpassed; however, that does not take away the impressive nature of this complicated watch.

The watch features two time zones, a sunset time function, a perpetual calendar, and an astronomical indicator of the night sky. As shown in the image below, the watch includes two faces (one on the front and one on the back), and the dual faces are necessary in order to display all of the watch's complications and features. There were seven timepieces created.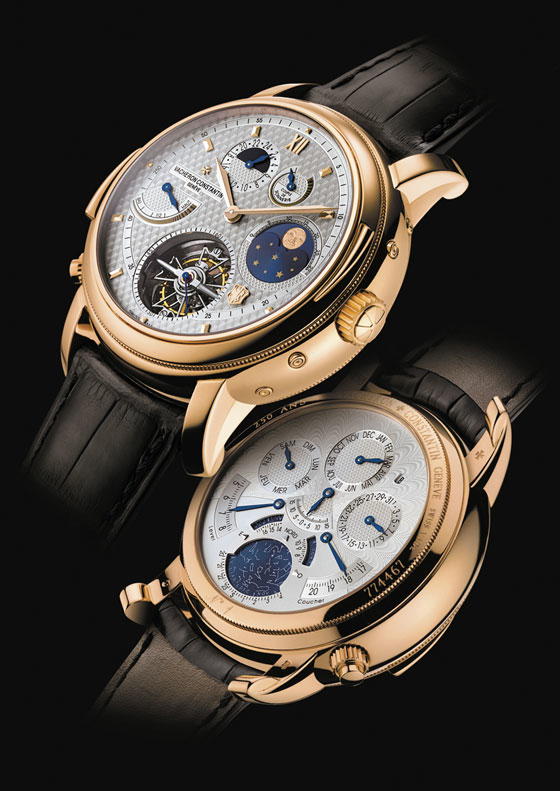 5. Richard Mille RM 056 Tourbillon Chronograph Sapphire Felipe Massa

Price: 1.65 million USD

In 2005, Richard Mille released the Richard Mille RM011 and other Richard Mille Felipe Massa watches. Then in 2015, Richard Mille celebrated its 10-year relationship with race car driver Felipe Massa by offering the Richard Mille RM 056 Tourbillon Chronograph Sapphire Felipe Massa.

This watch is the latest watch in Richard Mille's sapphire crystal collection. This collection includes watches such as the Richard Mille RM 56-02 Sapphire Tourbillon, a watch crafted out of pure sapphire with a movement suspended by a cable mechanism. The cable mechanism in the RM 56-02 made the movement appear as if it were floating, when in reality, the movement was manipulated via pulleys situated at the movement's four corners and at additional points along its periphery.

As for the Richard Mille RM 056 Tourbillon Chronograph Sapphire Felipe Massa, the watch features a skeleton tourbillon movement, a transparent rubber strap, and a transparent sapphire case. Because sapphire is incredibly difficult to work with, one sapphire case takes 430 hours to mill and 350 hours to polish.

Only five of these Richard Mille sapphire watches were created.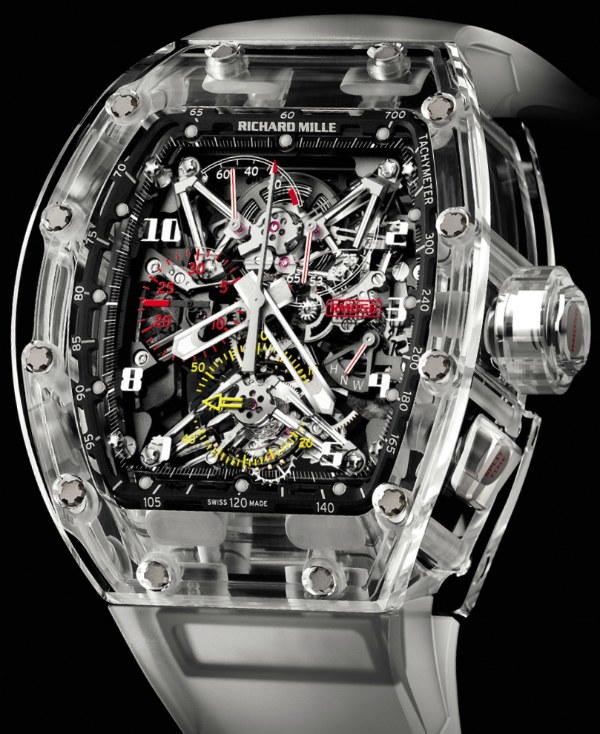 4. Jaeger LeCoultre Hybris Mechanica Grande Sonnerie

Price: 2.5 Million USD

Jaeger LeCoultre presented the Jaeger LeCoultre Hybris Mechanica Grande Sonnerie as a concept in 2009, and they revealed the finished product in 2014 as part of the brand's Hybris Mechanic trilogy. This trilogy featured three very expensive watches with a total of 55 complications altogether.

The Jaeger LeCoultre Hybris Mechanica Grande Sonnerie features 26 complications including a minute repeater, petite sonnerie, and grand sonnerie with full Westminster chimes that play the longest melody ever chimed by a striking timepiece. The watch also offers a perpetual calendar, a flying tourbillon, and two power reserve indicators (one for the sonnerie and the other for the watch).

Powering this Jaeger LeCoultre ultra-complicated watch is the double-barreled Caliber 182, an in-house manually-wound movement with 1,406 components. These components were produced by more than 1,300 on-site watchmakers, and it took nine months for one watchmaker to assemble the timepieces once all parts have been created.

The watch comes in a 44mm 18K white gold case, and it's 15mm thick. There were a total of 30 timepieces created.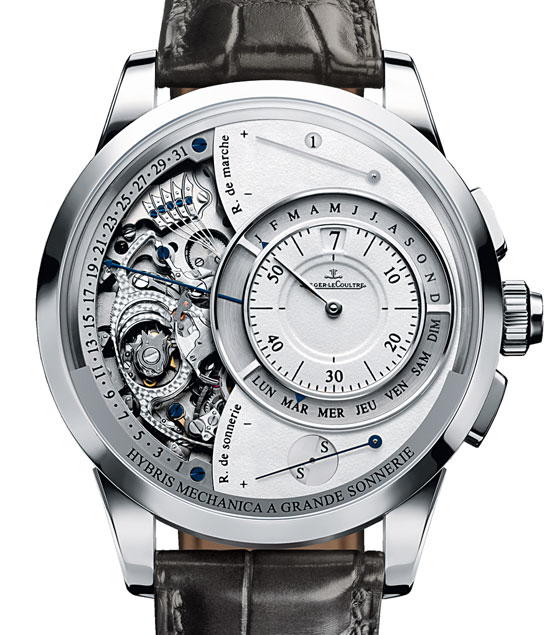 3. Patek Philippe Grandmaster Chime Ref 5175

Price: 2.5 million CHF 

The Patek Philippe Grandmaster Chime Ref 5175 is Patek Philippe's most complicated wristwatch, and it was released in 2014 as part of the limited-edition collection to celebrate the brand's 175th anniversary. This watch took seven years to design and create, and it required more than 100,000 hours of development, production, and assembly. Of that time, 60,000 hours were spent on the movement components.

This Patek Philippe watch includes 20 complications, including grande and petite sonneries, a minute repeater, a second time zone with day/night indicator, power reserve indicators, a time striking alarm, and a date repeater that sounds the date on demand. In order to display the numerous complications, this watch is Patek Philippe's first double-face reversible wristwatch. The 47mm rose gold case can be worn with the dial facing up or down. The top dial focuses on the time and the sonnerie; the bottom dial, on the instantaneous perpetual calendar with the four-digit year display.

The movement on this watch is made up of 1,366 parts and the case is made up of 214 parts. Only seven timepieces will be made, and one of the seven will go to the Patek Philippe museum.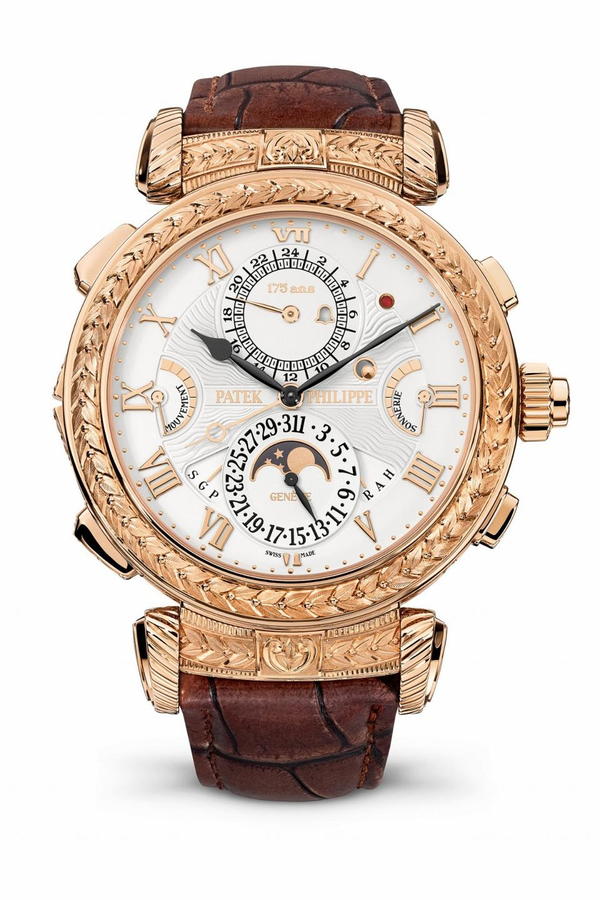 2. A Lange & Sohne's Grand Complication

Price: 2.6 million USD

After taking seven years to master the design and technical challenges, A. Lange & Sohne revealed the A. Lange & Sohne's Grand Complication at SIHH 2013. This watch is powered by the in-house manufactured manual-winding Caliber L1902, which includes 867 components.  

This movement features a grand sonnerie, petite sonnerie, minute repeater, split-seconds chronograph with minute counter, jumping seconds accurate to one-fifth of a second, perpetual calendar, and moonphase display. The sonnerie, which was tuned by hand, chimes every hour automatically.

Six timepieces were created, and they all feature a 50 mm pink gold case with a white enamel dial.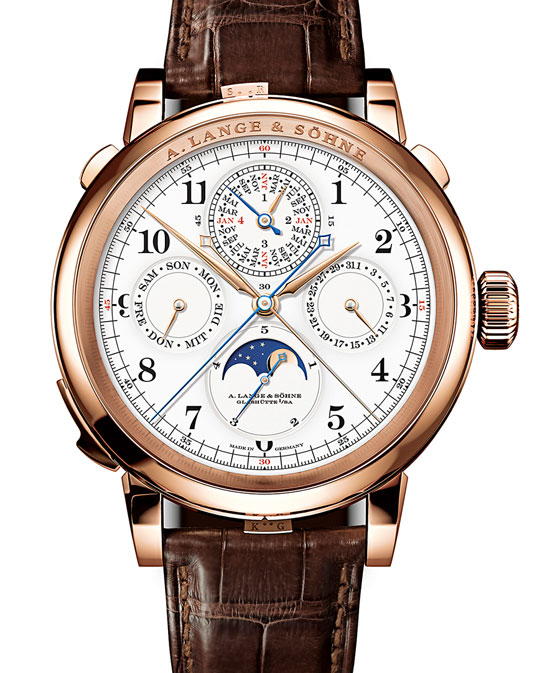 1. Franck Muller Aeternitas Mega 4

Price: 2.7 million USD

Requiring a total of five years to design and manufacture, the Franck Muller Aeternitas Mega 4 was presented to its owner in 2009. This ultra-complicated watch contains 1,483 components and 36 complications.

These complications include a 999-year perpetual calendar, a flyback chronograph, a tourbillon, a minute repeater, a mono-pusher split-seconds chronograph, two 24-hour time zones, an equation of time, a moonphase display, and a power reserve indicator. However, the most impressive complication is the Westminster-chiming grande and petite sonnerie. This sonnerie chimes the Carillon Westminster melody on the hour with small strikes on the quarter hour.

The watch has a three-day power reserve, and the sonnerie has a 24-hour power reserve. The Caliber FM 3480 QPSE, including 99 jewels, can be seen through the sapphire crystal caseback. As for the case, the watch features a Cintree Curves case in PVD-treated white gold.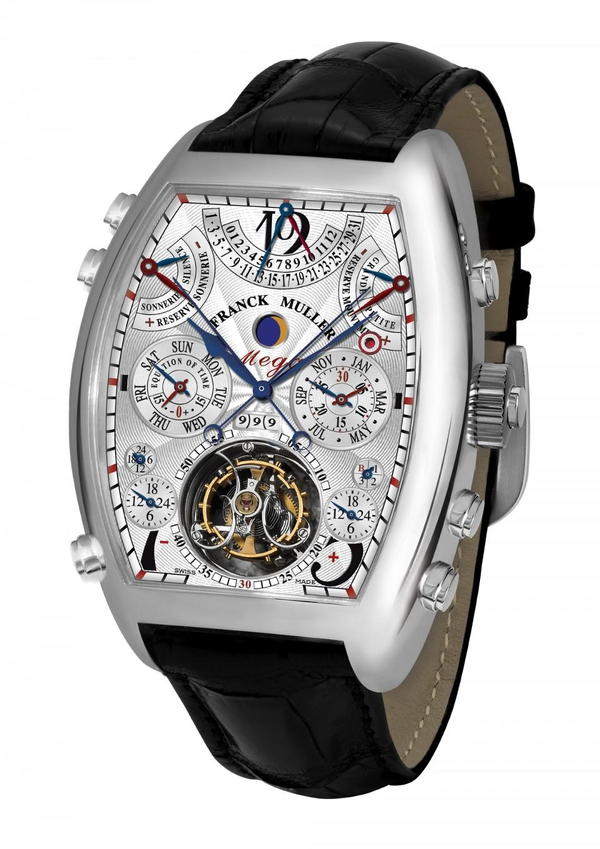 Watch reviews, industry info, exclusive partner offers, and more straight to your inbox!