Million Dollar Diamond Watches: 10 of the Most Expensive Watches Ever Created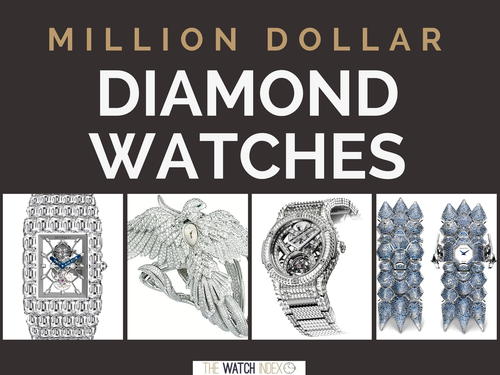 10 Million Dollar Diamond Watches
Love diamonds? Then we have a few watches that will be perfect for you. These 10 watches all cost over a million dollars, and some of these watches cost so much that they make one million dollars seem affordable. It's hard to believe how outrageously expensive these watches can get.

All of these watches tell time, but their primary focus isn't on the movement or the complications, instead the brands are focused on perfecting the design of these diamond-encrusted watches.

If you're interested in highly-complicated watches, then check out our article on the Top 14 Million Dollar Watches; these watches avoid the bling and instead feature incredible movements and luxury complications.

Which would you prefer? An expensive diamond watch or a highly complicated watch? Let us know in the comments below!
10. Hublot Black Caviar Big Bang
Price: $1 million

Our list of million dollar watches starts with the Hublot Black Caviar Big Bang, which features an 18-carat white gold case, crown, and bezel encrusted in 352 baguette-cut black diamonds. As for the watch face, there are no numbers but there are 544 diamonds, totaling 34.5 carats. If that weren't enough, Hublot has added an additional 30 diamonds to the bracelet clasp.

This limited edition watch (only one piece was created!) was inspired by Hublot's popular Big Bang model. It is also interesting to note that this watch won the Grand Prix of Geneve Jewellery Watch prize in 2009.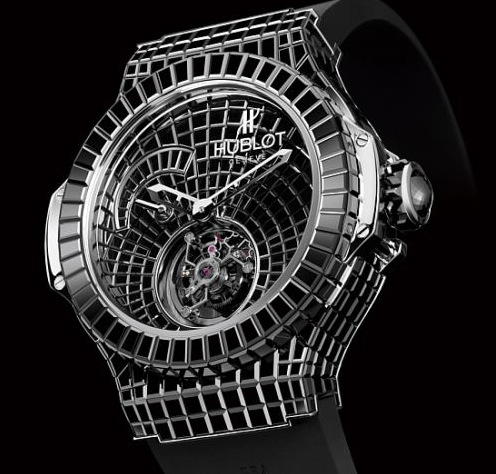 9. Ulysse Nardin Royal Blue Tourbillon
Price: $1 million

The Ulysse Nardin Royal Blue Tourbillon features a platinum case with 568 baguette-cut Top Wesselton diamonds (33.8 carats) and 234 baguette-cut royal blue sapphires (16.79 carats). The crown is covered in 8 diamonds and one cabochon sapphire. These stones were manufactured by a skilled stone-cutter, ensuring that the precious stones fit perfectly in the watch case.

The watch is powered by the Ulysse Nardin Caliber 79, a manual wound movement, that features blue sapphire main plates and bridges as well as a flying tourbillon. This movement boasts a 100-hour power reserve.  

As for the platinum bracelet, it is set with 432 baguette-cut diamonds and 176 sapphires. This watch is also available on a leather strap, and swapping out the diamond bracelet would drop the price to $230,000.

This watch is part of a limited edition of 30 timepieces, and it is sold at select retailers.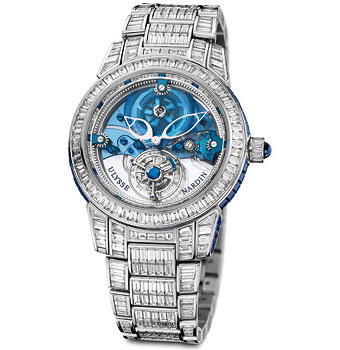 8. Hublot Classic Fusion Haute Joaillerie
Price: $1 million

The Hublot Classic Fusion Haute Joaillerie features 1,185 baguette diamonds, which cover nearly every surface of this watch including the case, the bracelet, the crown, and the openworked dial. The case alone required a 15-person team, 1,800 hours of cutting, and 200 hours of dimensional checking and quality control.

This expensive diamond watch is part of a limited edition of 8 pieces.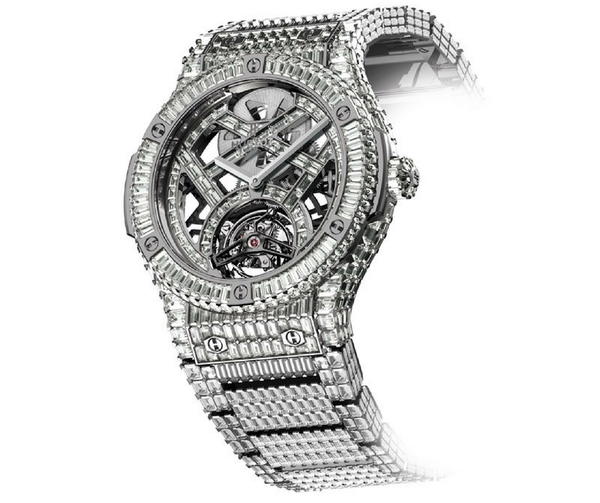 7. Audemars Piguet Diamond Outrage Sapphire
Price: $1.05 million

The Audemars Piguet Diamond Outrage Sapphire watch was released at SIHH 2017, and it is the third and final watch from Audemars Piguet's Diamond Series. The Diamond series began a few years ago, and now the Diamond Outrage Sapphire watch is joining the Diamond Punk and Diamond Fury watches.

The watch features blue sapphires and white diamonds to create the ice blue, metallic appearance. The bracelet includes 46 spikes of 18-carat white gold, and the bracelet is set with thousands of gemstones. Underneath a few of these spikes lies a hidden mirror-polished watch face.

The Diamond Outrage Sapphire is set with 11,043 brilliant-cut sapphires in six shades of blue. These diamonds total 65.47 carats. To create each individual watch, a master gem setter dedicated roughly 2,500 hours of his time.

If you're not a fan of the blue sapphires, Audemars Piguet has also created a diamond version which retails for $1.24 million.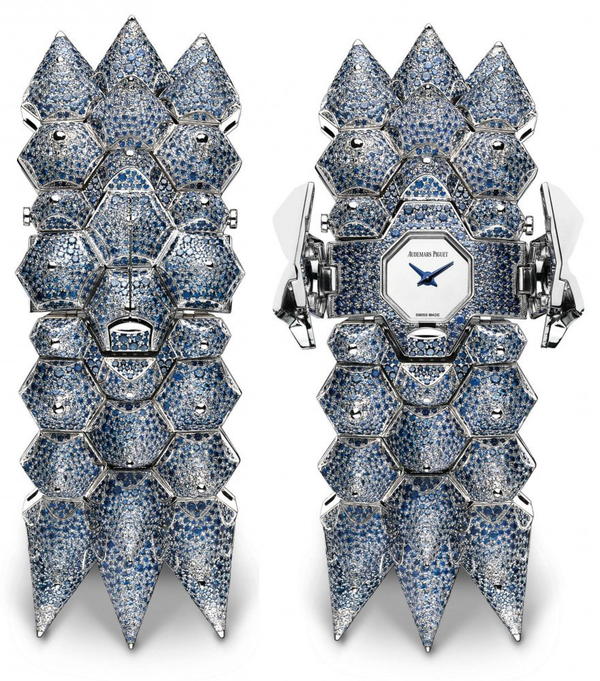 We can all agree: collecting mechanical watches is an expensive hobby. However, there are some price tags that even the most dedicated watch aficionados can't swallow. We've compiled 14 of the most expensive watches ever created, and they're all priced over a million dollars. 14 Million Dollar Watches: The Most Complicated Watches Available
6. Chopard Super Ice Cube
Price: $1.1 million

The Chopard Super Ice Cube earned its name with its unique square case and rows of ice cube-like square diamonds. The watch features a diamond pave dial and baguette diamonds on the case, bezel, and bracelet. These diamonds add up to a total of 66 carats! Underneath these diamonds is an 18K white gold case.

This ladies watch is 30 x 30 mm and it's powered by a quartz movement. 
5. Blancpain Tourbillon Diamants
Price: $1.8 million

Blancpain combined high-end jewelry and luxury timepieces with this Blancpain Tourbillon Diamants. The self-winding caliber 25A movement is made up of 239 components, and it boasts a 7-day power reserve. The watch is water resistant up to 10 bar, but we don't recommend swimming with this million dollar watch.

The 40 mm watch features a white gold case with 480 baguette-cut diamonds, totaling 58 carats. The Blancpain Tourbillon Diamants is rather difficult to find since there was only one created.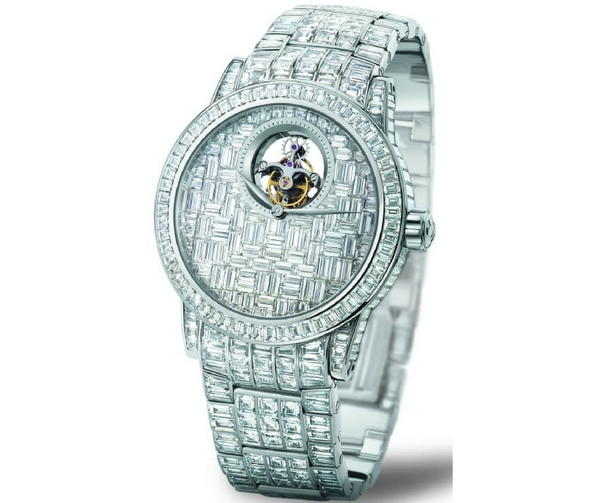 4. Cartier Phoenix-Shaped Watch
Price: $2.8 million

Cartier's Phoenix-Shaped Watch is perhaps the most unique watch in this list of million dollar diamond watches. This watch features an elaborate phoenix bracelet made out of 18K rhodium-plated white gold, and this bracelet features a pear-shaped watch dial on its back. Cartier used a small emerald embellishment for the bird's eye. In total this watch features 3,010 brilliant-cut diamonds, totaling 80.13 carats.

This watch is a part of Cartier's Merveilles du Nil de Cartier collection.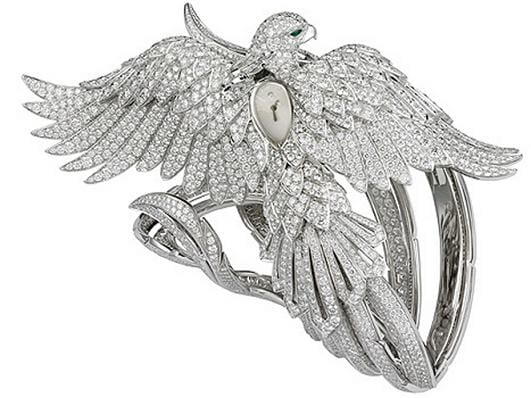 3. Piaget Emperador Temple
Price: $3.5 million

The Piaget Emperador Temple watch can be worn as a bracelet, and no one would ever know that the diamond-encrusted bracelet is also a watch. But this timepiece features not just one hidden watch face but two. The first watch face is concealed underneath an emerald-cut diamond on top of the case. The second watch face is hidden a bit deeper, underneath 481 brilliant-cut diamonds, 2017 baguette-cut diamonds, and the same emerald-cut diamond on top. As if the watch case didn't house enough diamonds, the bracelet is set with 350 baguette-cut diamonds.

The first watch face includes a Polynesian mother-of-pearl dial with a diamond-set bezel. The second watch face will impress the watch afficiandos with a tourbillon, skeleton dial, and 40-hour power reserve.

There was only one Piaget Emperador Temple created, and it was scooped up as soon as it was released. 
2. Jacob & Co The Billionaire
Price: $18 million

Jacob & Co's The Billionaire watch has an appropriate name because only billionaires would be able to afford this 18 million dollar timepiece. Unlike many of the other million dollar diamond watches, this watch features a high-end movement with luxury complications.

This Jacob & Co watch is powered by the JCAM09 manual-wound tourbillon movement, and this movement can be seen at work through the skeleton dial. The tourbillion is featured at 6 o'clock.

As for the bracelet, Jacob & Co crafted it out of white gold and covered it with 260 carats of white diamonds. There was only one of these ultra-luxury watches created.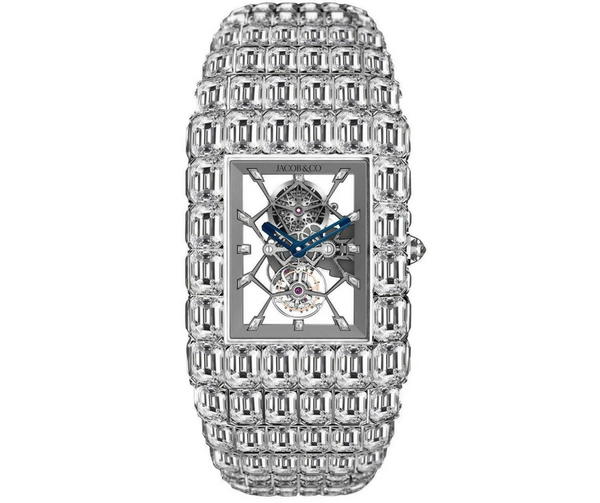 1. Chopard 201-Carat Watch
Price: $25 million

The Chopard 201-Carat Watch is known for being the most expensive watch ever created. Priced at 25 million dollars, very few people could afford this watch. Although this Chopard creation is technically a watch, it earns its expensive price tag from its diamond-encrusted bracelet.

Surrounding the watch face are three heart-shaped diamonds (a 15-carat pink diamond, a 12-carat blue diamond, and an 11-carat white diamond). As for the bracelet, white gold, yellow gold, and a handful of diamonds make up the flower motif. In total this expensive diamond watch features a shocking 874 diamonds and, as the name implies, 201 total carats.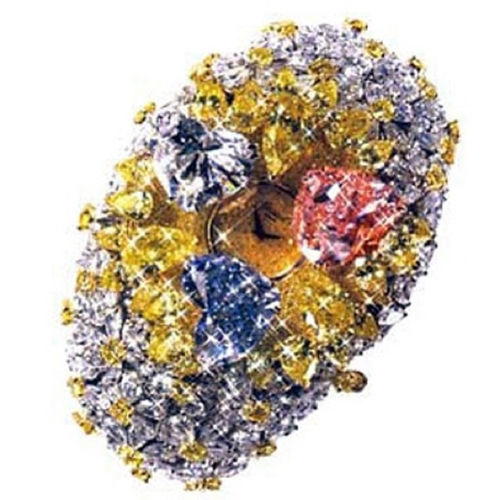 Many people question how something so tiny can cost upwards of thousands (or even hundreds of thousands) of dollars. Well, there are quite a few factors that go into designing, creating, manufacturing, distributing, and selling a watch. 6 Reasons Why Watches are so Expensive
Watch reviews, industry info, exclusive partner offers, and more straight to your inbox!