Frederique Constant Horological Smartwatch and eStrap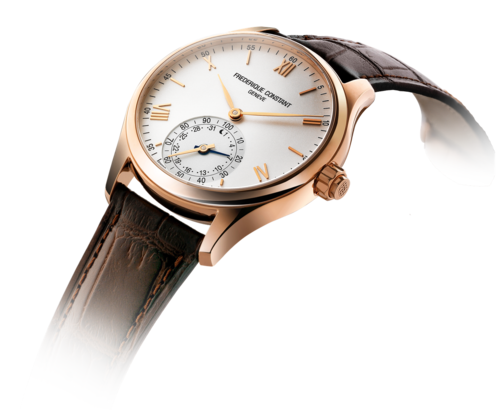 Frederique Constant Horological Smartwatch and eStrap
Frederique Constant has gone smart with their new line of horological smartwatches and the eStrap. Although the brand is embracing the smartwatch trend, their Horological Smartwatch honors the design and appearance of a traditional mechanical watch. The dial looks exactly like a mechanical watch, so no one would know that you're wearing a smartwatch.

As for the eStrap, it goes one step further by allowing buyers to transform a mechanical watch into a smartwatch by simply changing the watch strap. Now buyers can have the best of both worlds: a mechanical watch with smartwatch technology. 
First the Frederique Constant Horological Smartwatch
The watch is available in a stainless steel or a rose gold plated stainless steel case. Most of the watches come on a leather strap, but buyers also have the option of a stainless steel bracelet. There are a wide variety of dial options including guilloche decoration, a pointer date, a running seconds sub-dial, Roman numerals, Arabic numerals, and indices.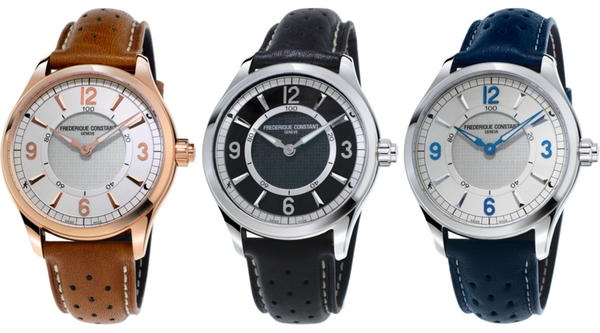 Frederique Constant's Horological Smartwatch has a classic look that can be worn to business meetings or more formal events. That being said, the watch can also be dressed down and paired with a business casual or casual weekend outfit.

However, there are quite a few similar dress watches on the market. The reason you'd buy this Frederique Constant dress watch is if you want the smartwatch technology. So let's take a look at the functions:


1. Worldtimer: Traveling to a different time zone? Simply enter your city into the app, and your watch will automatically update the time and date.

2. Activity Tracker: Keep track of your daily steps, total distance, and calories burned.

3. Activity Alerts: Set an alert to remind you to get up and move. The alert will notify you if you've been idle for a set amount of time.

4. Dynamic Coach: Get suggestions, tips, and information catered specifically to you based on your activity and sleep goals.

5. Sleep Monitoring: Wear your watch at night or put it under your pillow to record your sleep. When you wake up, you'll be able to see how much time you spent in deep sleep, in light sleep, or awake.

6. Smart Alarm: Set a smart sleep alarm to wake up feeling refreshed. The smart sleep alarm will wake up you at the best time in your sleep cycle.

7. Notifications: Receive notifications whenever you miss a call or receive a new email or text. Your smartwatch will notify you with a discrete vibration on your wrist and an indication on the dial.

8. Cloud Storage: Recover all of your data, even if you lost your watch or phone. The Horological Smartwatch automatically stores your activity and sleep data up to 30 days without having to synchronize it to your smartphone.

 
Confused about how to access all of this information? Simply download the MMT-365 App. You can set your alarms, time zone, and alerts quickly and easily on your smartphone. The analog display connects to the MMT-365 App via Bluetooth.  

The brand has created both his and her collections of this smartwatch. The prices for these watches range from 700 to 1300, depending on the case material and the bracelet or strap. This battery-powered watch has a two-year minimum battery life. 
Now the Frederique Constant eStrap
If you're not interested in owning a smartwatch but you want the smartwatch technology, then you may be interested in Frederique Constant's eStrap. The eStrap has the ability to make any mechanical watch smart, and this doesn't just apply to a Frederique Constant watch. So long as the watch strap is the correct width, it can be fitted to nearly any mechanical watch.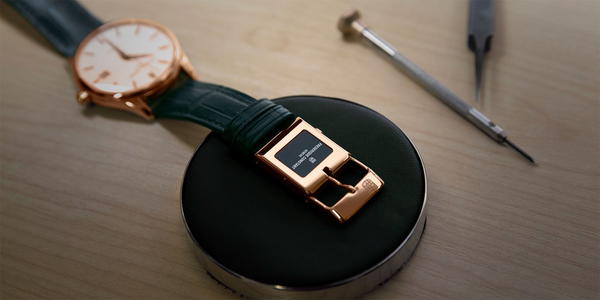 Wondering how this strap works?

The eStrap includes an ultra-small buckle extension that is thin and covered by the leather strap. The eStrap uses the same technology as the horological smartwatch, so it's able to track your activity, notify you that you have new messages, monitor your sleep, and send you get-active alerts. You can track this data through the same MMT-365 App that accompanies the Horological Smartwatch.   
eStrap Functions:
    -   Activity Tracking
    -   Sleep Monitoring
    -   Sleep Cycle Alarms
    -   Get-Active Alerts
    -   Dynamic Coach
    -   Rechargeable Battery
    -   Cloud Backup and Restore

The eStrap is available July 2017, and it's priced between 229 and 249 USD. The eStrap battery lasts for a week before needing to be charged.  
 
RECENTLY VIEWED
Watch reviews, industry info, exclusive partner offers, and more straight to your inbox!