The Difference Between Rose Gold, Red Gold, and Pink Gold Watches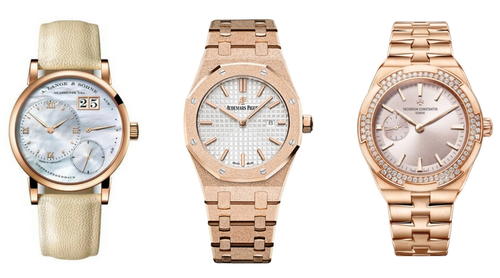 The Difference Between Rose Gold, Red Gold, and Pink Gold Watches
Ever wonder what the difference is between rose gold, red gold, and pink gold? Well, there's not much of a difference to be entirely honest. Rose gold, red gold, and pink gold can be used interchangeably to describe a watch case that includes a mix of pure gold and copper.

However, some watch brands may distinguish between the terms based on how much copper is included in the mix. For example, a mix that includes zinc can appear less red than mixes that just use copper and gold. These watch cases are most often referred to as pink gold or rose gold.

Marketing also comes into play when a watch brand decides what to name its gold case. Oftentimes men's watch cases will be referred to as red gold whereas women's watches will be referred to as rose gold or pink gold. There may not be any difference between the three terms, but rose gold and pink gold are predominantly seen as more feminine than red gold.

So, now you know! There's very little difference (if any difference at all) between red gold, pink gold, and rose gold cases or bracelets. Our suggestion when purchasing a watch is to base your decision off personal preferences rather than the name of the metal. Seeing the watch in person will help you to determine if it's too coppery or just the right amount.

Check out our favorite rose gold, red gold, and pink gold watches below.

Ladies Pink Gold Watches
Ladies Rose Gold Watches
Watch reviews, industry info, exclusive partner offers, and more straight to your inbox!