Understanding Watch Water Resistance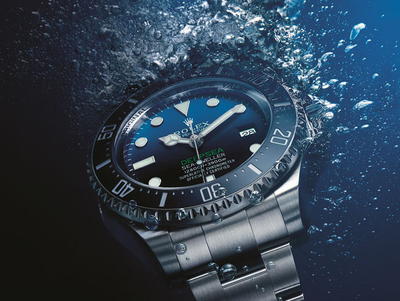 Although your watch may say it's water resistant up to 30 meters, that does NOT mean that you can hop in a pool and swim a few laps. When a company tests a watch, the tests are run in a laboratory under optimum conditions. For instance, the gasket and seals are new, the watch sits stationary in a pressurized water tank, and the water is motionless. These tests do not translate to real life use, and for that reason, you should understand what the water-resistant depth actually means.

In this article, you'll find three units of measurement: meters, atmosphere (ATM), and bar. Atmosphere, or ATM, is the rating for water resistance. One atmosphere is the normal pressure at sea level, so if a watch has 3 atmospheres then it will remain water resistant three times the pressure at sea level. Bar, similar in measurement to atmosphere, is most commonly used in Europe. Both 1 ATM and 1 bar are equal to 10 meters. 
 
No Water Resistance
1. Do not get your watch wet under any circumstances
3 Bar - 30 meters - 3 atmospheres
1. Splash resistant

2. Okay to keep your watch on while washing your hands or walking in the rain

3. Cannot be immersed in water
5 Bar - 50 meters - 5 atmospheres
1. You can swim with this watch, but it's not recommended.

2. It can be put underwater but swimming increases the pressure, which may not be okay

3. Do not dive with this watch
10 Bar - 100 meters - 10 atmospheres
1. You can snorkel and swim with this watch

2. Extended water time is fine

3. Do not dive with this watch
20 Bar - 200 meters - 20 atmospheres
1. Swimming is definitely okay

2. Snorkeling a-okay!

3. Still not safe to dive
30 Bar - 300 meters - 30 atmospheres
1. Go ahead; you can dive, swim, and snorkel with this watch

2. But it's still not certified to the ISO 6425 standard
Diver's watch or ISO 6425
1. These watches are designed for diving

2. If no number is given on the watch dial, then it can handle at least 100 meters

3. These watches are also tolerant to shock, magnets, and salt water. 
Recommendations
1. Test your watch once a year for water resistance. Although it may say it's water resistant when you purchased it, over time, the seals will erode and will not maintain the same water resistance. To test your watch, simply take it in to your watchmaker, and they should have the necessary equipment.  

2. Avoid hot water and drastic temperature changes. This can affect the shape of the gasket seals.

3. If you intend your watch to get wet, then we recommend purchasing a watch with a screw-down crown. But even with a screw-down crown, you should NEVER open or wind the crown while in water. 
 
RECENTLY VIEWED
Watch reviews, industry info, exclusive partner offers, and more straight to your inbox!