The Six Simple Steps to Buying a Watch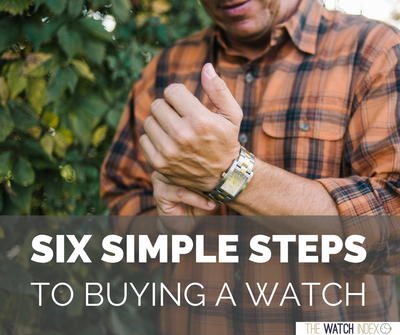 We can all agree that choosing a watch to fit your style and budget is difficult. There are thousands of options and it's nearly impossible to narrow the list down to one.

But don't worry, we have a solution. Now you can use these six simple steps to help in your search. These steps challenge you to think beyond just the watch. You'll be evaluating why you want the watch, when you'll be wearing it, and what you value in a watch.

We've also provided five tips that will come in handy during your watch search. These tips will tell you what to do and what not to do when hunting for your first watch. Although you may be intimidated to start the search, read on to see how easy it can be to choose and buy a watch. If you have any questions, let us know in the comments below!

 
Table of Contents
Six Steps to Buying a Watch
Determine Why: First you need to determine why you want a watch and what you'd like to achieve by purchasing a watch. Are you purchasing a watch strictly for convenience or will it be a fashion statement?

             1. Is it going to be worn frequently? If you plan to wear your watch to work, is your office setting business casual or formal?
             2. Do you spend a lot of time outside? Are you going to be using your watch while swimming or playing sports? 
             3. Do you have kids? Does your watch need to be durable?


Determine What You Value

             1. Is having a brand name watch, one that everyone will immediately recognize, important to you?
             2. Do you want your watch to be clean and simple without any frills or do you want a more complicated watch?
             3. Is the design of the watch the most important aspect? How unique do you want your watch to be?


Narrow Your Search: The next step is to narrow your search by the type of watch you're looking for.

             1. Dress watches, also known as classic watches
             2. Sporty watches, such as dive watches, aviation watches, and chronograph watches
             3. Complicated watches, can be formal or sporty
             4. Art and design watches
             5. Vintage watches


Determine Your Price Point: Before determining your price point, there are a few things you should be aware of. Watches are not a financial investment; you should not expect to purchase a watch and be able to sell it at the same price. Similar to buying a car, a watch's value depriciates as soon as you purchase it.

Also, you should understand that a quality watch that looks good, fits your style, and is of high quality should not be compromised. Although you don't want to stretch your budget outside of your means, you should also not settle on a cheap watch. If you don't love the watch, then you won't wear it. If you don't wear it, then your purchase was meaningless.

Here's what you should expect from your price point. However, you cannot assume that every $5,000 watch is comparable.

             1. Under $250: Consumer watches
             2. Under $1000: Brand and enthusiast watches
             3. 1,000 to 10,000: Luxury watches
             4. Over 10,000: Ultra-luxury watches


Find the Top Contenders: Once you have a short list of your top watches, you should check the reviews to see how other consumers like the watch. Don't be afraid to give it a few weeks before you make the final decision.


Determine Where to Take Your Business: There are three very important considerations when deciding where to purchase your watch.

- First, you need to trust the dealer or jeweler. Do your research and ask them questions. Make sure you understand the warranty and determine who would fix the watch when it needs repairs.

- Second, shop around to find the best price. You don't want to pay more if you don't need to.

- Third, recognize the service provided. When you walk into a shop, does the retailer give you immediate attention? Are you able to call and receive an answer to your question? If you don't feel comfortable with a certain retailer, don't be afraid to go someplace else.   

 
Five Tips to Consider
1. Avoid the Mall: Malls typically don't sell the luxury brands. Plus, it's very rare to find a mall salesperson that is trained exclusively on watches. They'll know the bare minimum, but they won't be able to answer all of your questions. An untrained salesperson may not have the tools or information to lead you to the best possible purchase.


2. Don't Buy on Impulse: Do your research and follow our 6 simple steps. Once you determine the perfect watch, check for better prices and read reviews. Taking time to research and decide will help prevent buyer's remorse. A watch, especially a luxury watch, should be more than a pretty thing you wear on your wrist.


3. Avoid Buying the Trendy Watch: Although popular in the moment, trendy watches often go out of style quickly. When buying a watch, you'll want it to last for a while, so you should make a decision based on your preferences and style.


4. Watch Out for Imposters: If you notice that a deal is too good to pass up, then do a bit of research on both the watch and the dealer.  Make sure that you're working with an authorized dealer or a jeweler at all times. It's always important to check out for imposters, but it's especially important when buying online. There are too many instances where an unsuspecting buyer will purchase a fake watch or a frankenwatch. A frankenwatch is a watch that uses parts and pieces from multiple timepieces to create a finished product.


5. Ask Questions: When buying a watch, don't be afraid to ask questions. Blog forums are a great place to ask questions, or you could go to a trusted watch retailer. Watch collectors and watch retailers are full of knowledge, and most people will be happy to answer any and all questions. 

 
RECENTLY VIEWED
Watch reviews, industry info, exclusive partner offers, and more straight to your inbox!