What is Watch Patina?
The vintage look is back in style!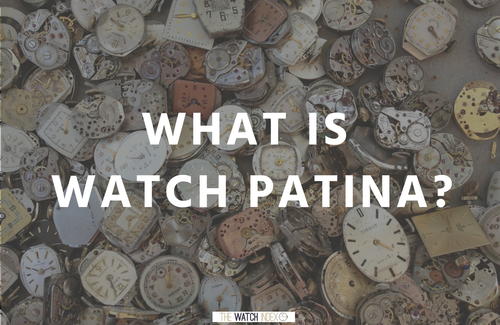 Vintage watches are becoming increasingly popular with collectors who love the well-worn look of fading and scratching. Watch patina refers to this natural aging process of timepieces that generally alters the hands, hour markers, and dials of your watch face. Collectors believe this patina adds character as every scratch and faded numeral represents a story of the watch's past. Honest patina comes from a long life of being worn and loved by the owner and can have a variety of effects. This timepiece trend focuses on the rich history behind a watch and the aesthetic of a vintage piece. While some still prefer to have scratch-free and polished wristwatches, more collectors and consumers are attracted to the antique appeal of watch patina.
What Causes Patina on Watches?
There are many factors that cause patina in watches and they vary from timepiece to timepiece. The aging of your watch is mainly influenced by light, moisture, use, and material. The more a watch is worn (and the more exposure to sunlight and water), the faster your watch will age. The materials of your watch also play a large role in the appearance of the patina. Aluminum hands will wear faster than those treated for luminescence just as a leather band will show more wear than a metal one.
How Does a Watch Get Patina?
If you have a watch that you want to look more vintage, the best thing to do is wear it regularly. The more you expose the watch to light, humidity, and everyday interactions with your environment, you will speed up the aging process. The most important part of aging your watch is to not rush the process. While you may want your watch to look vintage right now, trying to speed up the patina can cause damage to the functionality of the timepiece. Your watch is designed to tell a story; by wearing it for decades, you will have a rich history to show on your watch face.
Are Patina Watches Worth More?
Since patina timepieces are trendy, their prices are increasing at auctions. Watches that have an honest wear and unique patina can fetch tens of thousands more than their estimates according to Christie's. Your grandfather's worn-in watch may have more than just sentimental value, but it's probably best suited on your wrist.

If you're looking to purchase a vintage watch, make sure to research beforehand with our vintage watch buying tips.
Do you prefer the vintage look of patina or the perfection of polish?
RECENTLY VIEWED
Watch reviews, industry info, exclusive partner offers, and more straight to your inbox!