The Casio G-Shock Hammer Tone MRG-G10000HG-9A in Gold Review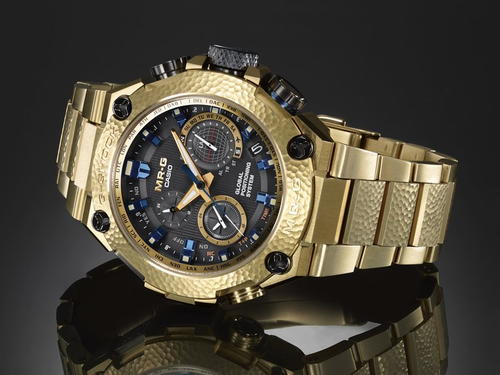 The Casio G-Shock 'Hammer Tone' MRG in Gold
Celebrating 20 years of MR-G, Casio has announced a brand new luxury model. This model, the Casio G-Shock 'Hammer Tone' MRG-G10000HG9A, is gold with a tsuiki hammer-pattern decoration around the bezel and bracelet. This pattern is carefully hammered into each watch by the tsuiki master, Mr. Bihou Asano. This is only the second Casio watch with this intricate decoration; the first was a limited edition Casio G-Shock 'Hammer Tone' MR-G that came out in July of 2016.
G-Shock watches are some of the best tool watches because they can withstand incredible amounts of wear and tear without affecting their accuracy or appearance. Although this Hammer Tone G-Shock is part of the luxury line, it remains true to the Casio quality standard. For durability and strength, this watch is not entirely gold. Instead, it's a titanium watch with gold ion plating. Additionally, this watch is water resistant up to 200 meters, and it is shock resistant.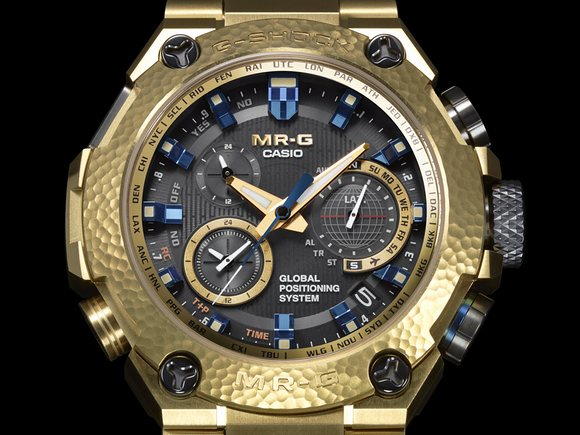 This GPS-controlled world time watch will use national radio time signal broadcasts as a backup in case the watch cannot sync with overhead GPS satellites. It also boasts Casio's Tough Solar technology which can convert not only sunlight but also fluorescent light into power.   

The analog watch offers quite a few features, including:
1. Day of the Week
2. Latitude
3. Airplane Mode Status
4. Daylight Saving Time
5. Perpetual Calendar
6. Battery Life Indicator
7. Bright LED Light and Neobrite Luminous Hands
8. Optional Alarm, Stopwatch, or Countdown Timer.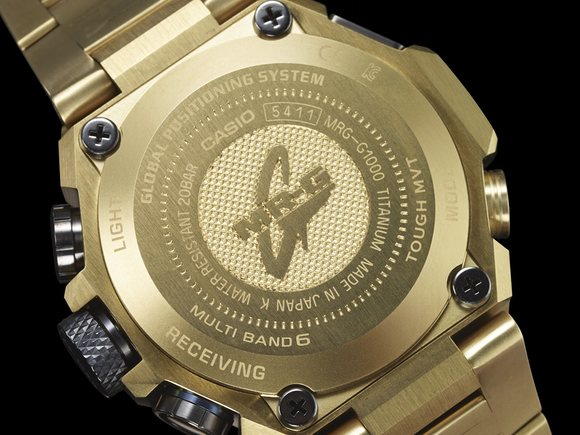 The watch is rather hefty with a 54.7mm width, 49.8mm height, and 16.9mm depth. If you're interested in purchasing this watch, be aware that this is a limited edition of only 300 watches. Each watch is priced at $6,200 USD.  
RECENTLY VIEWED
Watch reviews, industry info, exclusive partner offers, and more straight to your inbox!