How to Buy Vintage Watches on eBay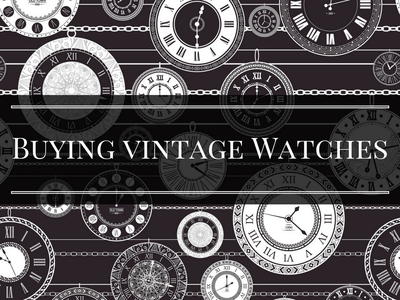 Buying watches online can lead to amazing finds or terrible duds. Although it's impossible to know exactly what you're buying, there are strategies to help you avoid buying the duds. The worst mistake beginner watch collectors can do is to buy on impulse. Instead, buyers should take the time to research and ask questions. 

First and foremost, our number one rule for buying vintage watches on eBay is to buy only the watches you like. It's often easy to get swayed by bargain prices and good deals, but you should only buy watches that you're going to wear and love. If you buy a watch intending to sell it immediately, then you may get burned on the deal and be stuck with a watch you do not like. 
Table of Contents
Things to Know Before Getting Started
1. Avoid plated watches. They wear easily and the color will become un-uniform. Typically, the best vintage watches are platinum, 18k gold, or stainless steel.

2. If the price is too good to be true, then tread carefully. Although you may have found a steal, it's more likely that the watch is counterfeit or damaged beyond repair. 
Find Your Watch and Identify the Flaws
1. Know what the original watch components look like, i.e. the dial, hands, movement, crown, case, and case back. If something doesn't look right, then it was probably a replacement part, and that will make the watch's value drop drastically.

2. Research the price of the original watch and what comparable watches (in both age and use) sold at. eBay has a handy Watch Selling Zone which allows you to research how much other buyers paid for similar items.

3. The dial adds the most value to the watch; therefore, check to make sure the dial is original. One way to do this is to look at the quality of the printing. If the printing is crude or lacks uniformity, then it may be refinished or replaced. We suggest comparing the dial and printing to other examples of the same watch.

4. Look for water stains on the dial or rust on the dial, case, or crown. If you see any indications of water stains or rust, take caution. This may mean that the movement was exposed to water, and this can lead to rusted parts and pieces. 
Double Check the Seller
1. Review the seller's feedback and their reviews. The feedback score stands for the member's eBay reputation. Ideally, the seller would have a score of 98% or higher.

2. Check to see if the seller has a tendency to buy and sell watches quickly.

3. Has the watch been relisted? If so, question why it didn't sell the first time around? Are you missing something?

4. Ask for the seller's return policy.
Ask Questions!
eBay allows you to ask questions and learn more about the watch before committing; therefore, take advantage of this feature. If a seller does not respond to your questions then proceed with caution.

Below we've listed some examples of questions that you should ask.


1. Does the watch run and keep accurate time?

2. How long does the watch run when fully wound?

3. Why are you selling the watch?

4. When was the watch last serviced?

5. Can you provide additional photos of the movement/case back/crown/serial numbers/strap, etc? Also, ask for photos of anything that is included in the sale, for example certificates of authenticity, original paperwork, and original packaging.

6. Have there been any modifications to the watch? Has the dial been refinished or replaced?

7. What flaws does the watch have? If they say it's in perfect condition, then you should be aware that the seller may not be entirely honest. They may be telling the truth, but typically even the best vintage watches come with a few dings or scratches.

8. Does it come with the original box and papers?
RECENTLY VIEWED
Watch reviews, industry info, exclusive partner offers, and more straight to your inbox!