6 of the Most Popular Vintage Rolex Watches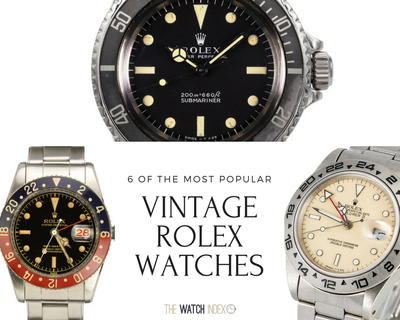 Rolex's current collection includes classic and sporty watches with modern designs and technology; however, the current collection makes up only a few of the watches that Rolex is best known for. Rolex was founded in 1905 by Hans Wilsdorf, and in 1910 a Rolex watch was the first watch to receive a Swiss Certificate of Chronometric Precision.

Throughout their history, Rolex has produced highly precise, innovative watches that have delighted both watch novices and watch connoisseurs. Many of these vintage watches are still popular today, and some are even more popular than Rolex's current collection.

We've gathered six of the most popular vintage Rolex watches. These Rolex watches are highly sought after by collectors, and they will continue to be popular for many years to come.
Table of Contents
Rolex Explorer II Ref 16550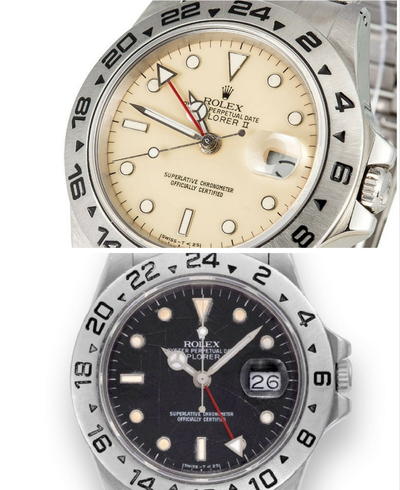 Rolex Explorer II Ref 16550

The Rolex Explorer II Reference 16550 was released in the mid-1980s, and this watch came in two versions: a white dial version and a black dial version. Today, you will not find a white-dial Rolex Explorer II Reference 16550. The reason? Over time, a chemical reaction has changed the pure white dial to an ivory or cream dial.
 
This cream-colored dial is exceptionally popular with collectors; however, it'll set you back between $10,000 and $15,000. The black-dial Rolex Explorer II is still a collectable; however, it's much more affordable, priced between $4,000 and $5,000. In most cases, the black dial's luminous hour markers have faded to cream.  
 
Besides the dial color, the Rolex Explorer II Ref 16550 is known for introducing a variety of different elements to the Explorer II collection, including the sapphire crystal glass, an independent hour hand, and a quick-set date feature. 
Rolex Datejust Ref 1601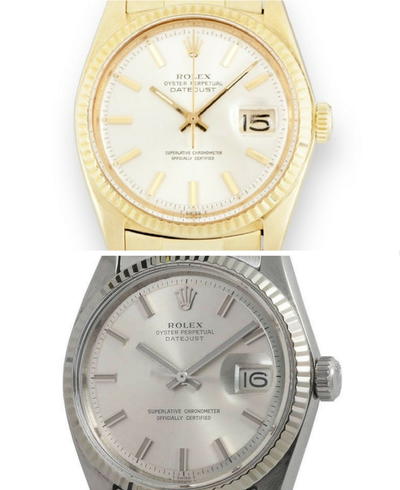 Rolex Datejust Ref 1601

If you're looking for a classic dress watch that will never go out of style, then take a look at the Rolex Datejust Reference 1601. This model was released in the 1960s, and buyers had the option of a gold Datejust or a stainless steel Datejust.
 
Today many watch collectors prefer the gold Rolex Datejust, typically priced between $7,000 and $10,000. However, if you are less enthused about gold watches (or your budget won't allow a gold watch), then the stainless steel Rolex Datejust is another great option. The stainless steel version can typically be found between $1,000 and $5,000.
 
This Rolex Datejust has an elegant appearance with its smooth case, fluted bezel, and sleek design. The watch is chronometer certified and its case is water resistant. (We recommend checking the watch's water resistance at a certified dealer or repair shop before you jump in a pool.) 
It doesn't matter how much you know about watches; Rolex is a household name that is instantly associated with luxury. Now you can learn a bit more about this iconic watch brand and its most popular watches.   Watch Brands 101: Rolex Watches
Rolex Submariner Ref 5513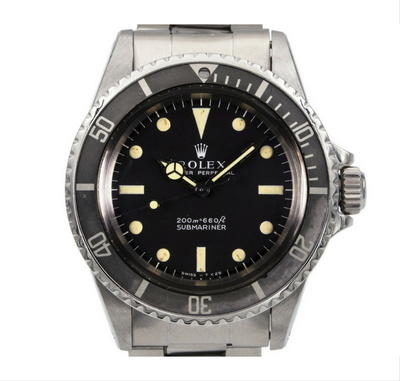 Rolex Submariner Ref 5513

The Rolex Submariner Reference 5513 was produced between 1966 to approximately 1984. This nearly 20-year production ensures that this vintage Rolex watch is not difficult to find and buy. Plus, the surplus number of models ensures that the price will remain competitive. You can typically find a Rolex Submariner Ref 5513 priced between $5,000 and $7,000.

Although this is not a rare vintage Rolex watch, watch collectors still love it because it's a classic dive watch that never goes out of style. The no-date dive watch features the original acrylic dome crystal instead of sapphire crystal glass. The acrylic dome crystal was the same material used on the earlier Submariners. This watch also features a Tritum gloss dial and luminescent hour markers and hands. Over the years, the luminous material has transformed from a pure white to a rich cream color, and this is a trait that many watch collectors look for.

Interested in the history of the Rolex Submariner? Check out our article and learn more about this famous Rolex model.
Rolex GMT Master Ref 6542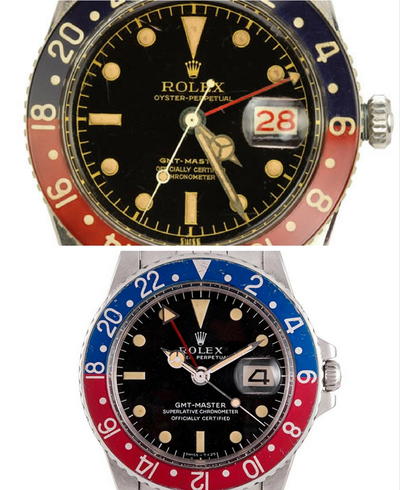 Rolex GMT Master Ref 6542

The Rolex GMT Master is one of Rolex's most popular collections, and in terms of vintage watches, the Rolex GMT Master Reference 6542 is one of the most sought after. Reference 6542 was introduced in 1954, and it was the first Rolex GMT-Master, making this the first watch of one of Rolex's most iconic watch collections. You can differentiate reference 6542 from later models by its lack of crown guards.
 
Vintage watch collectors are particularly looking for the ultra-rare, original "Pepsi" Bakelite bezel insert. Made of plastic, this insert is less sturdy than metal bezels, and for this reason Rolex stopped production of the Bakelite bezels in the late 1950s. Today, it's rare to find an original Rolex Bakelite bezel because of the few that were created many have been replaced.
 
Buying this rare Rolex watch will set you back around $50,000. If you like this vintage watch's style but you don't have that kind of cash lying around, we recommend checking out the reasonably priced yet still popular Rolex GMT Master Reference 1675. You can typically purchase the Reference 1675 for around $5,000 to $7,000. This model still features the classic two-tone "Pepsi" bezel, the striking black dial, the date display with Rolex's signature Cyclops lens, and cream-colored luminescent hour markers and hands.  
Although Rolex has created a number of drool-worthy models, we've narrowed our favorites down to nine. Without further ado, here are the The Top 9 Best Rolex Watches
Rolex "Paul Newman" Daytona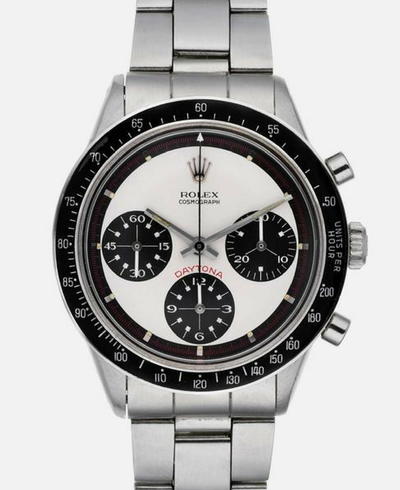 Rolex "Paul Newman" Daytona

Vintage Rolex Daytonas are popular with watch collectors, but it's the Rolex "Paul Newman" Daytonas that make collectors go crazy. From first glance, you may not be able to tell the difference between a vintage Daytona and a vintage "Paul Newman" Daytona. The case designs are identical, the movement is the same, and the bezel has not been changed. The only difference between these two watches is the dial.
 
The "Paul Newman" Daytona dial features art deco style font, hash marks with small squares at the end, and an additional small step in the dial between the outer minute track and the center of the dial. Like we said before, there's not much of a difference between the two watches.
 
Despite the similarities the "Paul Newman" Daytona watches are priced significantly higher than vintage Daytonas. For instance, a nearly identical "Paul Newman" Daytona and a vintage Daytona were sold in the same auction in December 2013. The "Paul Newman" Daytona sold for $93,750 and the vintage Daytona sold for $28,750.
 
Want to learn more about the interesting history of the Rolex "Paul Newman" Daytona? We recommend reading Hodinkee's article on the topic. 
 
Rolex Milgauss Ref 6541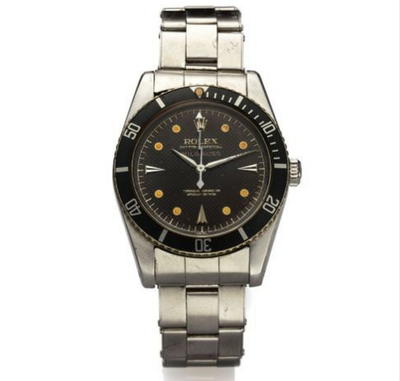 Rolex Milgauss Ref 6541

Rolex introduced the first Milgauss in 1956, and in 1958, they introduced the Milgauss Ref 6541, which was the first antimagnetic timepiece ever produced by Rolex. The Milgauss line was created for the benefit of the scientific community, especially since a scientist often experiences high instances of magnetic fields compared to someone who does not work in a scientific field. 

This watch features the distinctive lightning bolt seconds hand and streamlined stainless steel case. Although this is a popular vintage watch today, initial demand for this Rolex watch was low. Therefore, original Milgauss Ref 6541 watches are hard to come by today. 
We have big news from the world of watches. On May 14, 2017, a Rolex watch sold for 5,060,427 USD, securing the world record for the highest price achieved for a Rolex wristwatch. Rare Rolex Watch Breaks World Record
RECENTLY VIEWED
Watch reviews, industry info, exclusive partner offers, and more straight to your inbox!