The Rado True Blaze Watch Review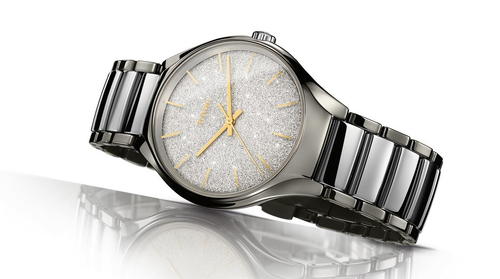 American designer Samuel Amoia has partnered with Rado to create this limited edition Rado True Blaze. The True Blaze features a metallic dial that on first glance looks as if it were covered in fine diamonds. Although it may look like it's covered in diamonds, the dial is actually a piece of solid metal that has undergone a galvanic treatment. This treatment created the unique textured surface that you see here.
If you're familiar with Samuel Amoia's furniture, you will immediately see his influence on this watch. Amoia uses metal and stone fragments to transform modern furniture with streamlined designs into textured works of art. Amoia took his unique style and with the help of Rado's expertise, designed a watch dial unlike any other.  

To keep the dial's textured surface intact, Rado decided to fasten the indices and their signature to the underside of the sapphire crystal. This makes it appear as if the indices and signature are floating above the dial.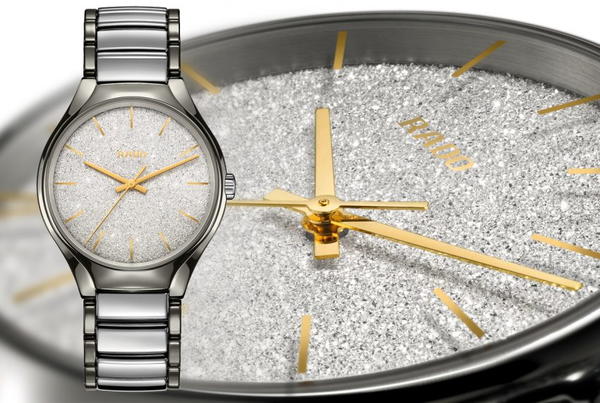 But the dial is only one aspect of this new watch. This watch features a plasma high-tech ceramic case and bracelet, which has the shine and color of metal but is lightweight, highly-durable, and scratch-resistant. This ceramic case is also ideal for people who are allergic to metal-based cases.
This watch is based on one of Rado's more popular models, the True Automatic. The True Automatic model features a diameter of 40 mm and a thickness of 10.5 mm. Unlike the original True Automatic, the True Blaze does not include a date window.

This automatic watch is powered by the ETA C07.611 movement which includes an 80-hour power reserve. Buyers can see this movement and its gold-colored winding rotor through the sapphire crystal case back.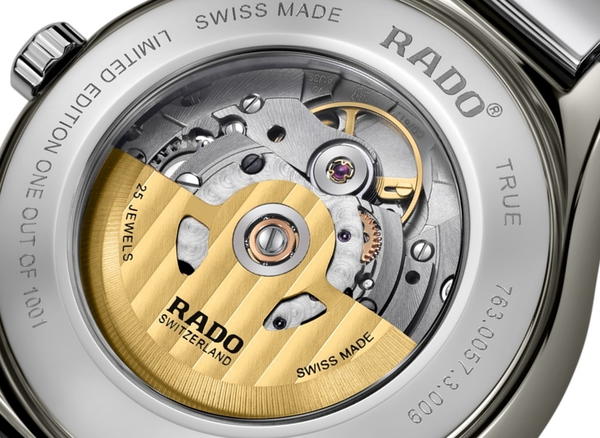 Earlier this year, Rado announced that they would be partnering with a number of notable designers to create one-of-a-kind designer watches. This Rado True Blaze watch is a part of the Rado True Designers' Series. These watches will all be limited edition watches, and they will be based on the Rado True Collection. Stay tuned for more information about Rado's True Designers' Series. 

The Rado True Blaze is part of a limited edition collection of 1,001 pieces, and it will cost $2,200. 
What do we think?
There's no mistaking it: This watch is more of a fashion watch than a high-end luxury watch. However, it does feature an automatic movement and a sapphire crystal case back. Therefore, this watch is intended to appeal to watch collectors with an eye for design.

There's something to be said about a minimalist watch that features a unique design. Minimalist watches tend to look the same, so it's refreshing when a brand reveals a new spin on the classic style.

That being said, this watch with its textured dial and floating indices isn't for everyone. What do you think? Are you a fan of the Rado True Blaze? Let us know in the comments below.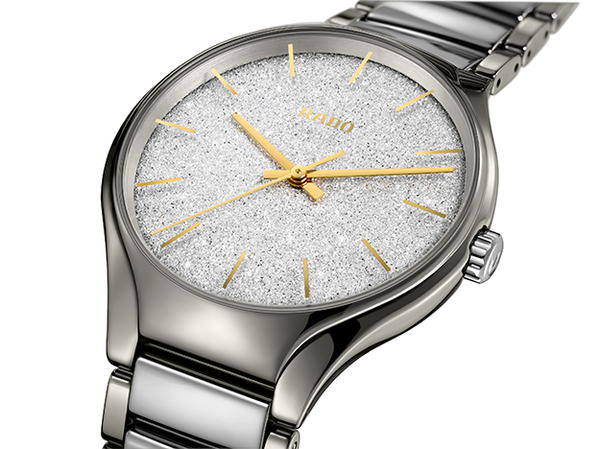 RECENTLY VIEWED
Watch reviews, industry info, exclusive partner offers, and more straight to your inbox!