Breitling Avenger Hurricane Review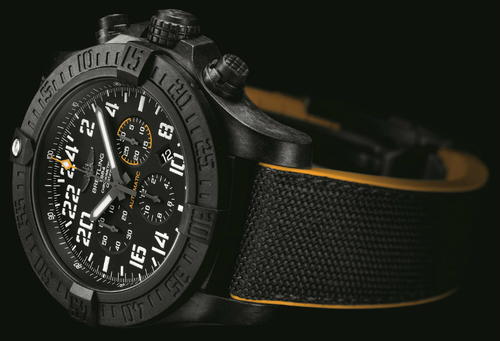 Breitling Avenger Hurricane Review
The name speaks for itself; this Breitling Avenger Hurricane is a force to be reckoned with. Immediately you'll notice that this watch revels in its masculinity. The watch stands at a whopping 50mm in diameter and 16.97mm in thickness. This immense size may not be ideal for every wrist size, but for those who can get away with a watch of this magnitude, you can guarantee that it'll be a statement piece.
Although this watch is much larger than traditional watches, it's incredibly lightweight with the new Breitlight polymer. Never before seen, the Breitlight polymer pushes the boundaries of luxury watches. Although it's not traditional, it's quickly making a name for itself. The innovative case material is over three times lighter than titanium and nearly six times lighter than stainless steel, yet it's harder than both.

Additionally, Breitlight is scratch-resistant, anti-allergic, and anti-magnetic, making this watch capable of withstanding anything you could possibly put it through.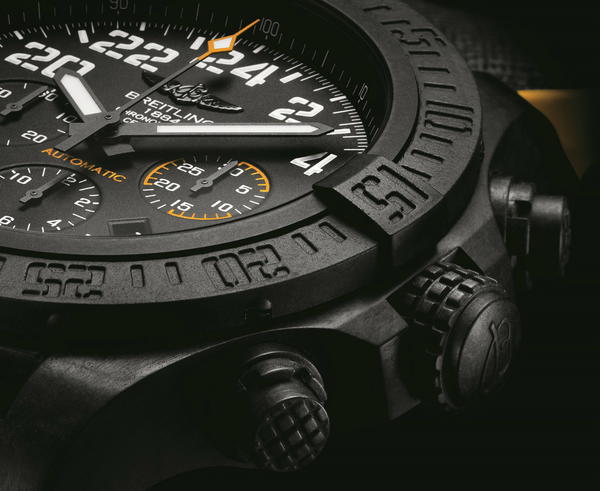 This watch comes in all black with yellow accents on the dial, the seconds hand, and the strap. As for the strap, it's also one of a kind. The outside of the strap is a highly-resistant black military strap, and the inside is a yellow rubber that's designed for comfort.

Unsurprisingly, the Breitling Avenger Hurricane is water resistant up to 100 meters or 10 bars. To prevent water from leaking into the watch, the crown and the caseback are screw-locked.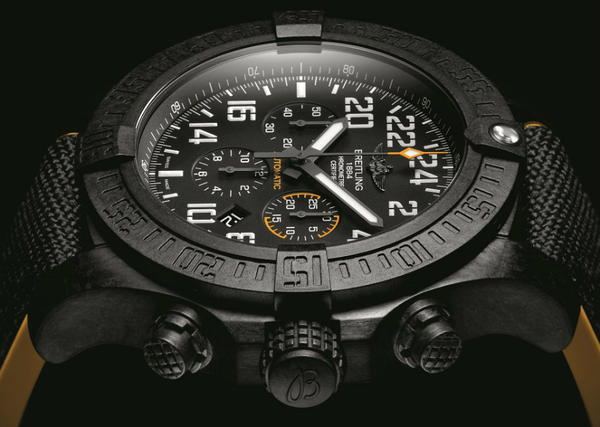 Last but certainly not least, the caliber. Breitling used their Caliber B12, which is an in-house automatic movement. This in itself is impressive, but it's even more impressive when you realize that Caliber B12 runs a 24-hour time display and chronograph. Not many brands can boast making their own movement that accommodates a military-time watch. But that's not all… this watch is COSC certified, so you know that it's precise.

All in all, this watch is a masculine masterpiece. Although it may not be for everyone, it will definitely attract buyers that can get away with wearing a watch of this size. This watch is priced at 8,390 USD.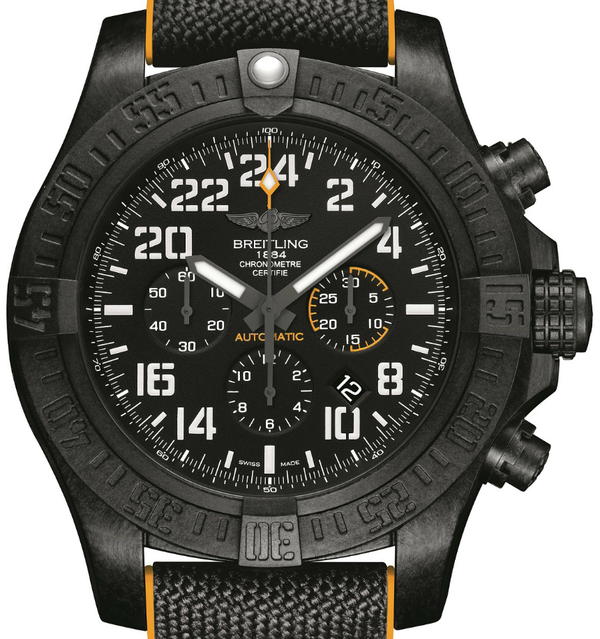 Although your watch may say it's water resistant up to 30 meters, that does NOT mean that you can hop in a pool and swim a few laps. When a company tests a watch, the tests are run in a laboratory under optimum conditions. Understanding Watch Water Resistance
RECENTLY VIEWED
Watch reviews, industry info, exclusive partner offers, and more straight to your inbox!