How Does a Quartz Watch Work?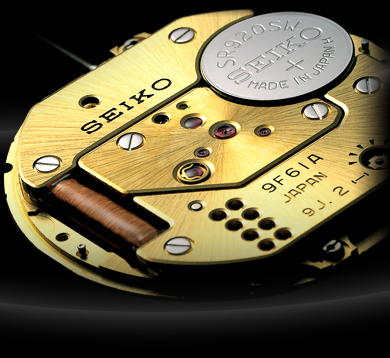 How Does a Quartz Watch Work?
When buying a watch, you can either buy a watch with a mechanical movement or a quartz movement. A mechanical movement is made up of gears, wheels, barrels, and springs, and these components work together to power the timepiece. In contrast, a quartz watch uses a battery and a quartz crystal to power the watch.
In general, quartz watches are more accurate timekeepers, require less maintenance, and are more affordable than mechanical watches. Yet, watch collectors typically prefer mechanical watches because they require more skill and craftsmanship to create. Mechanical watches are founded on hundreds of years of history and heritage whereas quartz watches are a more recent invention. Seiko introduced the first battery-powered watch in 1969, the Seiko Astron (shown below), and the easy-to-maintain watches took off in the 1970s and 80s. In the watch community, this period is frequently referred to as The Quartz Crisis.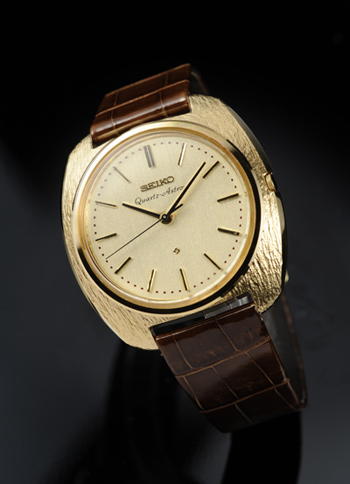 As for how quartz watches work? Don't worry, we're getting to that.


A standard quartz movement requires the following components: the battery, the integrated circuit, the quartz crystal, the stepping motor, and the dial train.

Battery: The battery is the power source of the watch. On average, it will need to be replaced every one to two years. However, the battery life depends on the watch's functions, features, and how often you use them.

Integrated Circuit: The circuit takes the power provided from the battery and carries it throughout the movement.

Quartz Crystal: The integrated circuit sends the battery power to the crystal in a constant stream. As the quartz crystal comes in contact with the electricity, it vibrates.

Stepping Motor: The vibrations are translated as electrical impulses, and the stepping motor turns these impulses into mechanical power.

Dial Train: Similar to a mechanical watch, the dial train uses the mechanical power to turn the watch hands.


In the end, each component is necessary to power your quartz watch. The battery provides the power, the quartz crystal regulates that power, the circuit carries the power, the stepping motor turns the electrical impulses into mechanical power, and the dial train uses the power to advance the minute hand, hour hand, and occasionally the seconds hand.

Seiko, Casio, and Citizen are best known for their highly accurate quartz watches. Some of their most well-known watches include the Seiko Astron, the Casio G-Shock, and the Citizen Eco-Drive One.
RECENTLY VIEWED
Watch reviews, industry info, exclusive partner offers, and more straight to your inbox!