Do I Need a Watch Winder?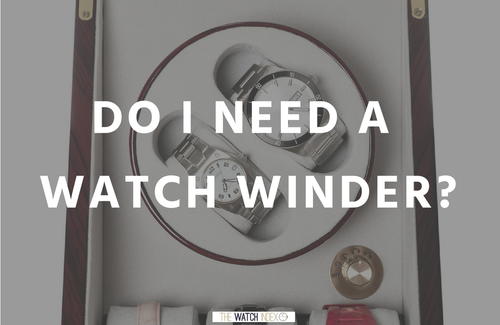 Do you need a watch winder? Watch winders help keep your timepieces accurate when they aren't worn for long periods of time. Automatic watches continually run based on their movement, so if you don't wear it for days at a time, it can stop and require a manual winding. For watches that are only worn on special occasions, watch winders can keep them running so you never lose the time. If you wear the same watch daily, a watch winder is not necessary and will simply be a frivolous expense. If you are worried about letting your expensive watch stop, a watch winder may be useful, but only if you invest in a winder that is a similar quality to your watch.
Do I Need a Watch Winder?
If you have a high-class watch, maintaining its accuracy may be important to you. A watch winder of the same quality as your watch will guarantee that your watch never stops. You can adjust the movement speed and how often your watch spins for a higher degree of accuracy.

If you wear your watch regularly (at least twice a week), a watch winder is not necessary because your natural movements are helping to keep your watch "wound." Wearing your timepiece is the simplest and cheapest way to ensure it keeps the time.
Do Watch Winders Damage Watches?
If you are using a quality watch winder, you do not have to worry about it damaging the interworkings of your timepiece. Quality watch winders typically cost around $200 and will last upwards of a decade. Inexpensive watch winders can damage your watches ability to keep accurate time by overwinding them. If your watch is over-rotated for a long period of time, the movement may no longer function properly. In addition, these cheap winders typically break within six months, so a quality product is worth the investment.
Should I Buy a Watch Winder?
If you've read through this guide and are still contemplating if a watch winder is necessary, ask yourself if the expense is worth it to you. If you do not wear a watch frequently, your automatic watch may stop. If manually winding your watch back to the current time and date doesn't bother you, skip the watch winder purchase. If you are intent on keeping your watch accurate at all times (even when not being worn), a watch winder is probably worth your investment.
RECENTLY VIEWED
Watch reviews, industry info, exclusive partner offers, and more straight to your inbox!