The Top 10 American Watch Brands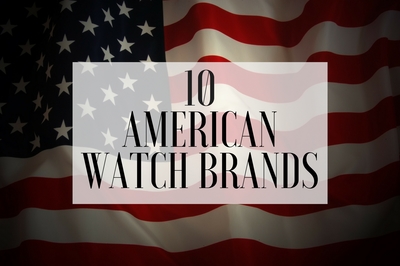 The Top 10 American Watch Brands
When thinking of luxury watches, many people immediately think of Swiss-made watches. This isn't unusual since Switzerland is home to some of the greatest watch brands, such as Patek Philippe, Rolex, Omega, and TAG Heuer. However, Switzerland isn't the only place for luxury watch brands. Japan is home to Seiko, Casio, and Citizen; and Germany is home to A. Lange & Sohne, Montblanc, and Nomos.
 
But what about America?
 
Hamilton Watch Company was founded in Lancaster, Pennsylvania, but in 1969 the brand closed its American factory and shifted its manufacturing operations to Switzerland. Another brand, the Elgin National Watch Company was based out of Elgin, Illinois, and it sold watches and pocket watches from 1864 to 1968. However, in 1968 the Elgin National Watch Company halted all US manufacturing. A third US watch brand, the Waltham Watch Company, produced nearly 40 million watches, clocks, speedometers, compasses, and other precision instruments from 1850 to 1957. Then in 1957 the Waltham Watch Company went out of business.
 
There was a brief stint where not much happened with the American watch industry; however, it's slowly growing and gaining steam. We've chosen our top ten American watch brands, and we're sharing them with you. These brands design and manufacture a range of watches, from fashion watches to high-end luxury watches.
 
Before we get started, it is important to tell you that truly "American Made" watches are few and far between. There are a few brands, such as RGM, Keaton Myrick, and Kobold, that don't just assemble watches in America, but also make the majority of the parts here. However, most of the brands outsource watch parts, especially movements, from Switzerland, China, and Japan. But these watch brands still design, assemble, and manufacture their watches in the USA.  

So take a look at let us know what you think about these US watches. 
Table of Contents
We've compiled our top 10 watches under 5,000 dollars. All of these watches are powered by highly accurate mechanical movements, and each watch was designed and manufactured by a trusted watch brand. So you can be sure that these watches will be worth the investment. 10 of the Best Watches Under $5,000
RECENTLY VIEWED
Watch reviews, industry info, exclusive partner offers, and more straight to your inbox!