Watch Brands 101: Longines Watches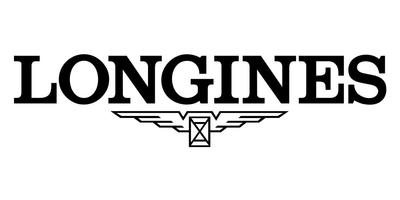 Watch Brands 101: Longines Watches
Longines is known for their elegant sport and dress watches as well as their highly accurate quartz movements. Interested in purchasing your own Longines watch? Now you can learn all about Longines, the brand's history, their most popular collection, and their newest watches.

Brand: Longines

Pronunciation: LAWN jeen

Location: Switzerland

Average Cost: $1,000 to $10,000

Table of Contents
The History of Longines
Longines was founded in 1832 by Auguste Agassiz, and the brand began by making and selling pocket watches. In 1867 Longines created its first mechanical movement, which was used for their pocket watches. In 1913 the brand expanded into wristwatches, and they developed their first movement for a wristwatch. Longines quickly became known for their precision timekeeping and high degree of accuracy. They also began developing watches with navigational systems and coordinating with the military and navy to supply highly accurate watches.

In the early 1900s, navigation and aviation were still in their infancy, which made flying a dangerous endeavor. Pilots were looking for any tool that would help them to be more accurate, to be on time, and to get to their destination safely. Longines developed watches that helped to make aviation safer.

On May 21, 1927, Charles Lindbergh was the first person to successfully complete a transatlantic solo flight from New York to Paris. Six other pilots previously attempted the flight and died. Part of the reason why this flight was so dangerous was because the pilots lacked the navigational tools; their resources included a compass, a map, and a window. After completing the record-breaking flight, Charles Lindbergh reached out to Longines to develop a wristwatch that would help pilots calculate their longitudinal location. Longines made Lindbergh's dream watch come to life when in 1931 they released the Lindbergh Hour Angle watch. This watch could be used in conjunction with a sextant and a nautical almanac to help aviators calculate their exact geographical situation.

But Longines isn't just known for their pilot watches, the brand has also been affiliated with and timing equestrian events since 1883. Today, they are the official timekeeper of the Triple Crown, which is made up of three races: the Kentucky Derby, the Preakness Stakes, and the Belmont Stakes.

Watch shown is the 2017 Longines Lindbergh Hour Angle 90th Anniversary watch.  
Most Popular Longines Collection for Men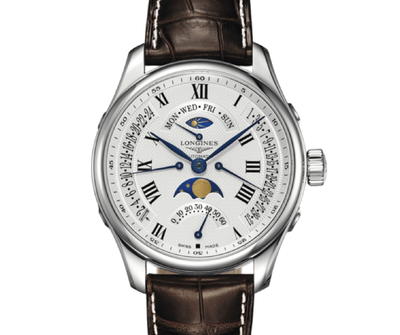 The Longines Master Collection is one of the brand's most popular collections. The Longines Master Collection was launched in 2005 as a way for the brand to focus on their mechanical watches. The collection is composed entirely of models with mechanical movements, and most of these movements are self-winding. The collection is known for its contemporary yet classic style, as well as the variety of the complications available.

In 2007, this collection was expanded to include the Master Collection Retrograde. These retrograde watches display the time in a linear fashion, instead of the traditional circular fashion. Many linear displays showcase functions like the date, the day, and the power reserve. In 2011 the brand expanded this line further by releasing the Longines Master Collection Retrograde Moonphase model.

Watch shown is the Longines Master Collection Retrograde Moonphase watch.
Most Popular Longines Collections for Women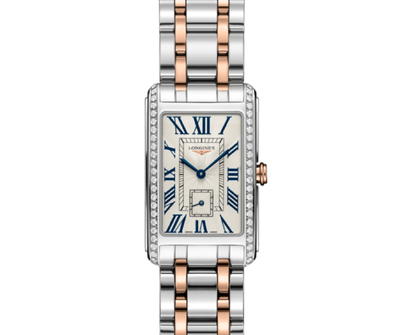 When looking at ladies watches, the DolceVita and the La Grande Classique are two of Longines' most popular collections. The DolceVita collection is known for its distinctive rectangular casing, classic elegance, and streamlined beauty. This collection primarily features a stainless steel case, yet some of the watches include a combination of stainless steel and pink gold. DolceVita watches are powered by a quartz movement.

The Longines La Grande Classique collection includes both men's and women's dress watches. La Grande Classique watches are classically beautiful with a clean dial and sophisticated Roman numerals. Buyers can also choose to buy a diamond-studded watch. The watch is powered by a quartz movement, and it can be worn on a classic stainless steel bracelet or an alligator leather strap. 

Watch shown is the Longines DolceVita in stainless steel and pink gold.
Interested in a Seiko watch, but want to dig a little deeper? Now you can learn all about Seiko, the brand's history, their most popular collection, and their newest watches.  Watch Brands 101: Seiko Watches
New Longines Watches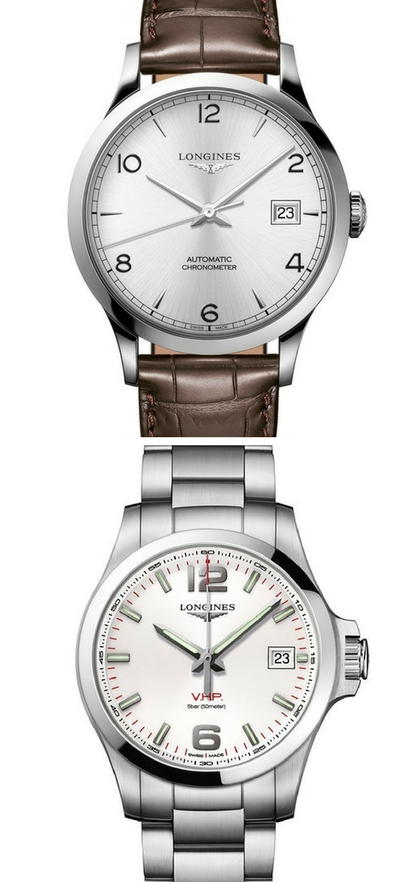 Longines has two big launches for 2017: the Longines Record Chronometer Certified and the Conquest V.H.P.

As a way to celebrate the brand's 185th anniversary, Longines has launched its new Record collection. This collection is comprised of both ladies' and men's timepieces, and every watch is powered by a chronometer-certified automatic movement. The watches are also anti-magnetic and anti-gravitational.

Offering four sizes (26, 30, 38.5, and 40 mm) and a variety of dial options, the Record collection is a versatile collection that will fit nearly every style. Although brand new, the collection has already earned a reputation for including clean, simple, and elegant watches. These Longines watches start at $1,800, making them quality watches at an affordable price.  

The second launch is for the Conquest V.H.P. First launched in 1984, the Conquest V.H.P has a history of being highly accurate. This should come as no surprise, since the acronym V.H.P stands for "Very High Precision." The first Conquest V.H.P movement was +/- 1 minute every five years, making the watch 5 to 10 times more accurate than a classic quartz watch.

Today, the new Conquest V.H.P is equipped with a quartz movement that offers an even higher degree of accuracy (+/- 5 seconds every year). This watch is also able to reset its hands after an impact or an exposure to a magnetic field. These feats are accomplished by the GPD system (gear position detection system). This system checks the gear's exact position and corrects the display if it is inconsistent with the movement's time. Therefore, the GPD will resynchronize the hands when they're not accurate.

As for magnetic fields, the watch includes sensors that detect the presence of magnetic fields. If the magnetic fields are too strong, the display freezes although the time is still being counted. As soon as the watch is clear of the magnetic field, the display immediately corrects itself.  

The battery life on the Conquest V.H.P is good for four to five years. This highly accurate quartz watch can be purchased for $1,000 for the 3 hand models and $1,500 for the chronograph models. 

The watch on top is the new Longines Record Chronometer Certified watch; the watch on bottom is the new Longines Conquest V.H.P.
Luxury watches can cost upwards of thousands or even hundreds of thousands of dollars, but you don't have to spend your life savings to purchase a good quality watch. We've compiled twelve watches that are all priced under one thousand dollars, and some of these watches are even under five hundred dollars. 12 of the Best Men's Watches Under $1,000
RECENTLY VIEWED
Watch reviews, industry info, exclusive partner offers, and more straight to your inbox!