Watch Brands 101: Seiko Watches
Watch Brands 101: Seiko Watches
Interested in a Seiko watch, but want to dig a little deeper? Now you can learn all about Seiko, the brand's history, their most popular collection, and their newest watches. 

Brand: Seiko

Pronunciation: SAY ko

Location: Tokyo, Japan

Average Cost: $500 to $5000
Table of Contents
The History of Seiko
Founded in 1881 by Kintaro Hattori, Seiko began as a clock repair shop in central Tokyo. In 1892 Seiko created its first clock, and in 1895 the brand created its first wristwatch. The brand continued to refine their watches in the early 1900s, and in 1924 Seiko began selling watches.

Jumping forward to 1969, Seiko permanently changed the watch industry when they introduced the first quartz watch, the Seiko Quartz Astron. This quartz watch was accurate to within 5 seconds per month (100 times more accurate than a mechanical watch), and it ran continuously for over a year (250 times longer than a mechanical watch). The public went crazy for this new highly accurate and maintenance-free technology.

The introduction of the Seiko Astron led to the 1970s Quartz Crisis. Traditional watch brands had to decide to either join the quartz movement or whether the storm. Many brands disappeared because of the Quartz Crisis. Everyone was looking to buy a new quartz watch, and mechanical watches took a backseat.

Seiko continued their innovative spirit by creating the first multi-function digital watch and the first LCD quartz watch with six-digit digital display. In 1988 Seiko created the first kinetic watch, a watch powered by everyday movements such as when you swing your arm. In 2012 Seiko created the world's first GPS solar watch, the Seiko Astron. This watch is a more technologically advanced version of the 1969 Seiko Astron. This watch recognizes 39 different time zones. 

The watch shown is the 1969 Seiko Quartz Astron. 
 
Seiko's Most Popular Collection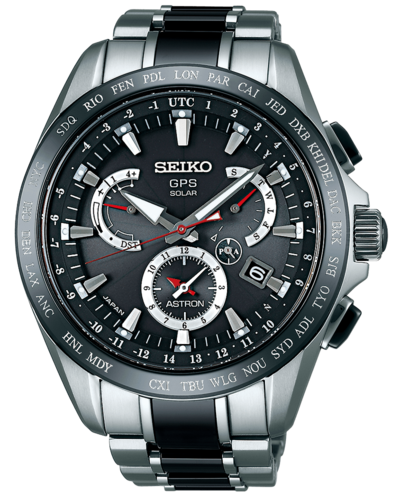 The Seiko Astron is one of Seiko's most popular collections, and for good reason. As mentioned above, the collection includes the world's first quartz watch, as well as the first GPS solar watch. In 2017 Seiko introduced a new caliber for this popular collection; this caliber features enhanced GPS solar technology.

With the press of a button, you can connect your watch to a GPS network and reset the watch's time. Whenever the dial is exposed to bright light, the watch automatically receives GPS signals. Because this is a solar-powered watch, the watch receives its energy from light alone. Therefore, this watch will never require a battery change. 

Buyers can choose between a variety of Seiko Astron models such as the Seiko Astron 8x Series Dual-Time, Seiko Astron 8x Series Chronograph, Seiko Astron 8x Series World-Timer.  

The watch shown is the Seiko Astron 8x Series Dual-Time SSE041. 
 
What's New from Seiko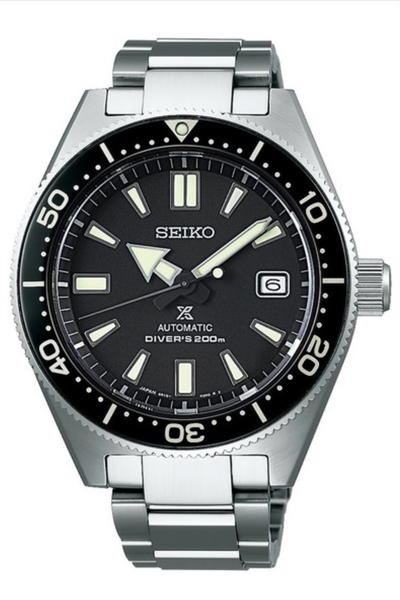 At Baselworld 2017, Seiko announced that Grand Seiko and Seiko would be splitting into two distinct entities. Grand Seiko was first launched in the 1960s and the international launch took place in 2010. Grand Seiko watches focuses on quality rather than quantity, and each Grand Seiko watch features a high-end movement and superior designs and finishings.  Grand Seiko watches are typically priced between $4,000 and $10,000. 

As for Seiko, they have recently expanded their Prospex collection, which features high-specification sports watches. These sports watches are intended for professionals; however, the watch would suit anyone looking for a sports watch with highly accurate complications.

The Prospex collection is split into three models: Sea, Sky, and Land.
The Prospex Sea is ideal for divers with its 200 m water resistance, screw-down crown, scew-down case back, uni-directional rotating bezel, and luminous hands and indices.
 
The Prospex Sky is ideal for pilots because it provides scales, so pilots can easily make necessary calculations. Because the watch is solar-powered, the pilot is guaranteed accuracy.
 
The Prospex Land is ideal for adventurers because the watch includes a compass that is powered by the sun. The watch also features luminous hands and indices.   
The watch shown is the
Seiko Prospex Diver SPB051J1
.  
RECENTLY VIEWED
Watch reviews, industry info, exclusive partner offers, and more straight to your inbox!